Things really cranked up several notches this week when Donald Trump powered through Super Tuesday, taking an alarming seven states during the Republican primaries and furthering his POTUS potential.
And boy, oh boy, did Americans react – the number of Google searches for 'how to move to Canada' went up by over 1000 per cent by midnight on Tuesday.
Of course, we're only too happy to welcome our cousins from the South. But we just want Americans to know that while we may be neighbours, there are still a few culture shocks you should be prepared for.
So grab a pen and paper and take notes as we teach you the Canadian A-Z (pronounced 'zed').
We Don't Live in Igloos
Believe it or not, we live in houses made of bricks, not blocks of ice. They all have central heating and most have A/C, which we need for the summer when it gets hot – we'll give you a moment to process that one.
You cannot ski in July (except in the mountains)
As above: we have warm summers here, bro. And no, we don't mean 'warm' compared to -20. Actually hot, as in an average of 27 degrees Celsius in July for Toronto, with some days reaching well into the thirties.
So make sure you stay hydrated, with 'pop'
Not soda. Understood?
But when it is cold, remember to wear your toque
This is our word for beanie – it's pronounced like 'fluke' with a 't', and it goes on top of your head in exactly the same way.
Not everyone knows how to skate
Babies do not come out of the delivery room wearing skates and doing triple axels, and not all of us are rink rats. While certainly not a nation adverse to it (heck, some do actually commute by skate), there are Canadians who have never set foot on ice before. They are called 'hipsters'.
We do like other sports too
It's not all about hockey – but did we mention that the men's hockey team won the Gold medal at the Winter Olympics in 2002, 2010 and 2014? We're also big fans of baseball, basketball (which we invented) and football (the CFL, you guys, look it up). Plus we have TVs and the internet here too, so you can, you know, still watch your favourite teams if you want…
We have a thriving music scene at the moment
Last year Canadians dominated the top spots of the Billboard Hot 100 thanks to artists like Drake, Justin Bieber and the Weeknd, with the latter two taking home some hardware at the Grammy Awards last year.
And our entertainment isn't bad either
Up here in Hollywood North, we're making stacks of great films every year in locations like Vancouver and Toronto. In fact, our skylines have probably made cameos in a lot of your favourite movies. And with Ryan Gosling, Rachel McAdams and Seth Rogen representing us on screen, it's no wonder the New York Times thinks we're suddenly hip.
Guns are generally NOT available to purchase
Sure, we have a cooling off period for buying firearms too – it's called FOREVER. But you'll probably find you don't miss guns that much, as there's far less to get all fired up about (pun intended) here in this tolerant society. Crimes of passion? Pass us a Molson and we'll soon forget what we were so het up over.
We're very 'sorry' about that
But we're definitely not 'sarry', as you guys say. You may laugh at us for apologising to inanimate objects or for our Canadian standoffs – when we get stuck in a sorry-cycle after two people bump into one another. But remember, it's our peace-keeping, diffusion of conflict that brought you here in the first place.
But don't forget: Canada has fought in several wars
In fact, you've probably heard of some of them – World War I and II ringing any bells? 619,636 men and women served in the Canadian forces in the First World War, which was pretty incredible for a nation of eight million. Plus, 45,000 Canadians died fighting for the allies in WWII; per capita, Canada lost more people than the United States. The Royal Air Force fought with Great Britain from the beginning and Canadians were there on D-Day successfully invading Juno Beach.
Our healthcare system is awesome
America's flawed health system may have made a great premise for Breaking Bad, but we think you'll be pleased to know that our universal healthcare means you'll be looked after irrelevant of wealth or income. The Canadian version of the show? Walter White is diagnosed with cancer. He gets treated. THE END.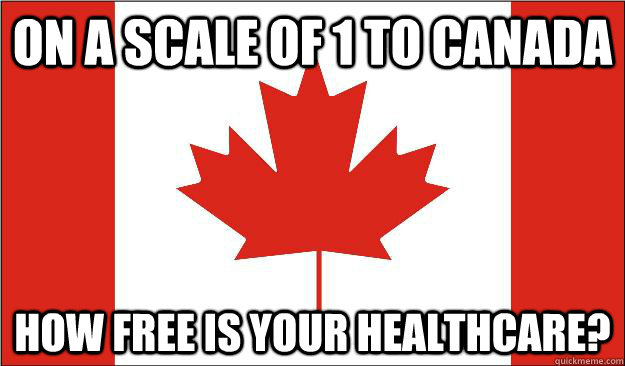 In fact, it's so good you might even live longer
You could expect to extend your life when you head over here. Canadians live an average of three years longer than Americans – about the length of one of your presidential elections (no, really).
The price of beer is going to shock you
Thanks to the federal and provincial taxes on booze, beer is going to cost you more than you're used to paying. So buy in bulk – and when you do, remember to call it a 2-4, not a 24-pack. Also, remember to save your empties in exchange for cash at the Beer Store.
Because every loonie and toonie helps
No, we're not talking about Bugs Bunny and Daffy Duck. We don't have one dollar bills here; the loonie is our one dollar coin, in reference to the common loon bird. Meanwhile, a toonie is the Canadian two dollar coin, introduced in 1996.
But think of all the money you'll save on maternity leave
Feeling broody? If you have a baby you'll get paid leave in Canada. In fact, things are generally rosier for females at the office here, with Canada ranking eleventh on an index of best places for women to work and reporting a smaller gender pay gap than the U.S.
Or just buy a lottery ticket
If you're that 1 in 292 million who has the winning Powerball ticket, you won't be taxed so severely on your winnings over here. Unlike America, Canada doesn't treat your lottery winnings like earnings, meaning that you won't lose over half if you claim it in one lump sum.
So, sit back and enjoy Canada
But on a Chesterfield, or a sofa. Not a couch. And if you still need convincing, check out some more of our  Canadian bragging rights.
[ad_bb1]