The next time a family member asks me if people in Canada ride moose to the store and ice skate to work, I'll be able to answer in the affirmative for at least one of those questions.
Because if you live in Edmonton, you could be gliding to your desk on the Edmonton Freezeway, which opened up on Tuesday. Just make sure you leave your briefcase at the office.
The 400m path through the trees of Edmonton's River Valley launched its pilot project yesterday and, if successful, could extend to 3.5 kilometres over the next few years.
The freezeway is already set to extend to 800 metres in length next year, and if it continues to grow many Edmonton residents will actually be able to commute to work or school (or bar, if you are a very able skater).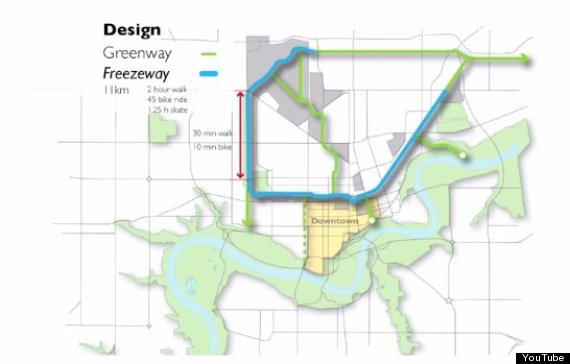 Architect, Matt Gibbs, who came up with the scheme three years ago, said it came out of a necessity to reignite people's appetite for the colder months.
He told Metro News, "It's been a project about passion. For me, it was about begging the question, what would it take to make Edmontonian's fall in love with winter?"
And if it helps people to switch their morning road rage for an icy wonderland, he just might have found the answer.
Back in 2013 Gibbs' idea won top place in the COLDSCAPES international urban design competition which focused on adapting design environments to fit cooler climates.
The trail will also lay down rubberized crossing for pedestrians to safely cross the ice and in the summer months the same path will be used for cyclists.
There will be plenty of art for the skaters to admire and light installations from local artist Dylan Toymaker have been put up around the route.
Is this the most Canadian thing ever? Yes, yes it is.

[ad_bb1]