Although there is no standard industry definition for 'boutique hotels', the minute you walk through their doors and become enveloped by the truly unique character and personality, you'll understand.
Boutique hotels separate themselves from cookie-cutter properties by creating an experience around the hotel stay itself. Intimate in size, most boutique hotels will have anywhere between 10 and 100 rooms to provide an atmosphere that makes guests feel transported to another world.
Boutique hotels always strive to be one-of-a-kind and go above-and-beyond with unexpected yet exciting décor and food, services and amenities. This personalized and inimitable offering hasn't gone unnoticed by travellers as more and more are opting for a boutique experience.
From historic sites to newly constructed skyscrapers, Booking.com, the global leader in connecting travellers with the widest choice of incredible places to stay, has found some of the best Canadian boutique accommodations that offer an exclusive experience where you CAN have it all.
[ad_bb1]
Home Away From Home:
Feel at home in a comfortable and classy environment complete with everything you need, including the warm staff that makes you feel like family.
The Great George (Charlottetown, PEI)
The Suave Choice:
River or city view? Take your pick at The James Hotel where the modern rooms offer unique designs and generous wooden accents.
The James Hotel (Saskatoon, SK)
Where Style Meets Class:
Style and class says it all at Hotel Gault. Enjoy a cup of coffee in front of the grand library's fireplace or check out the spectacular views from the giant windows and/or rooftop. The common areas are not the only highlights of this stay, the rooms are just as generous equipped with heated bathroom floors.
Hotel Gault (Montreal, QC)
The Princess and the Chocolate Factory:
A restored 1850s chocolate factory, The Ivy at Verity welcomes you with its elegant style and enchanting atmosphere. Feel like royalty stepping out of the marble bathroom (in your complimentary robe) into a gorgeous luxury room. Pamper yourself like never before and make your way downstairs where the staff will guide you to the sweetgrassspa equipped with everything from a nail salon to a lit up pool lounge.
The Ivy at Verity (Toronto, ON)
Sophisticated Artists:
Whether you're into sophisticated, stylish bars, luxurious open rooms, spectacular art or beautiful 19th century buildings, LHotel is just the ticket.
LHotel (Montreal, QC)
Silk Suites:
With its gorgeous silk décor and beautiful design, this boutique hotel is all about extravagance. Take it up a notch and treat yourself to one of the suites, which features a spa bath and fireplace. Want to explore the city centre? Union Bank Inn is set in the perfect location, only a 6-minute walk from the city centre.
Union Bank Inn (Edmonton, AB)
Pretty in Pink:
This boutique hotel is all about colour and pizzazz with leopard print French furniture, pink silk pillows and unique artwork to top it all off. This funky yet fashionable hotel and its welcoming staff are ready to make your experience one-of-a-kind.
Opus Hotel (Vancouver, BC)
A Taste of Europe:
Set in Montreal's old downtown, this historic building offers a European vibe with its stone and brick walls accompanied by high fashion modern décor. Hang out in the lounge with their friendly staff or ask them for advice on exploring the trendy town, you may as well; bikes and iPads are free to borrow.
Le Petit Hotel Montreal (Montreal, QC)
Sleek and Stylish
In the heart of downtown Toronto, this modern boutique property exudes contemporary cool. From the three-storey penthouse to the chic suites and rooms, all guests can take advantage of the state-of-the-art fitness centre, spa and upscale dim sum restaurant.
SoHo Metropolitan Hotel (Toronto, ON)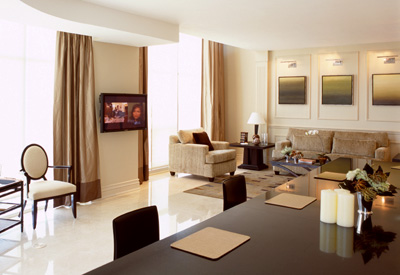 [ad_bb2]