If you're in the market for some summer reads, Bill Gates may be able to help.
Unlike last summer, his annual reading list leans toward the lighter side – you know, the type that could be called a beach, dock, or poolside read.
Especially if you're a billionaire.
Gates says he chose books that made him "think or laugh or, in some cases, do both."
So, yeah, you may want to order a couple – he's a pretty smart guy.
Hyperbole and a Half, by Allie Brosh
Based on Brosh's popular website, Gates calls this read "funny and smart as hell."
"Touching, absurd, and darkly comic, Allie Brosh's Hyperbole and a Half showcases her unique voice, leaping wit, and her ability to capture complex emotions with deceptively simple illustrations."
– Amazon

The Magic of Reality, by Richard Dawkins
Gates says that The Magic of Reality author Richard Dawkins has a "gift for making science enjoyable" – presumably, even when you're laying dockside.
"Filled with clever thought experiments and jaw-dropping facts, The Magic of Reality explains a stunningly wide range of natural phenomena: How old is the universe? Why do the continents look like disconnected pieces of a jigsaw puzzle? What causes tsunamis? Why are there so many kinds of plants and animals? Who was the first man, or woman? Starting with the magical, mythical explanations for the wonders of nature, Dawkins reveals the exhilarating scientific truths behind these occurrences. This is a page-turning detective story that not only mines all the sciences for its clues but primes the reader to think like a scientist as well."
– Amazon

What If?, by Randall Munroe
In this read, Munroe answers absurdly hypothetical questions with scientific answers. "Munroe's explanations are funny, but the science underpinning his answers is very accurate," says Gates.
"Millions of people visit xkcd.com each week to read Randall Munroe's iconic webcomic. His stick-figure drawings about science, technology, language, and love have an enormous, dedicated following, as do his deeply researched answers to his fans' strangest questions."
– Amazon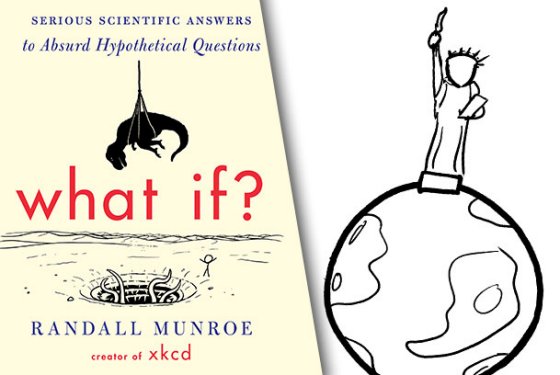 XKCD, by Randall Munroe
Of another Munroe read, Gates says that "it's not the kind of humour that everyone loves," – but he does (which means you probably should).
"Randall Munroe describes xkcd as a webcomic of romance, sarcasm, math, and language. While it's practically required reading in the geek community, xkcd fans are as varied as the comic's subject matter. This book creates laughs from science jokes on one page to relationship humor on another."
– Amazon

On Immunity, by Eula Biss
Gates calls this read "a thoughtful and beautifully written book about a very important topic." And it's an important topic indeed.
"In this bold, fascinating book, Biss investigates the metaphors and myths surrounding our conception of immunity and its implications for the individual and the social body. As she hears more and more fears about vaccines, Biss researches what they mean for her own child, her immediate community, America, and the world, both historically and in the present moment. She extends a conversation with other mothers to meditations on Voltaire's Candide, Bram Stoker's Dracula, Rachel Carson's Silent Spring, Susan Sontag's AIDS and Its Metaphors, and beyond. On Immunity is a moving account of how we are all interconnected-our bodies and our fates."

How to Lie With Statistics, by Darrell Huff
Gates loved this book so much he says that it was one of the handful of books he recommended to everyone at TED this year. And that could be the reason why it's out of stock on Amazon.

Should We Eat Meat?, by Vaclav Smil
According to Gates, this "timely" book is "probably the least beach-friendly one on this list."
"Should We Eat Meat? is not an ideological tract for or against carnivorousness but rather a careful evaluation of meat's roles in human diets and the environmental and health consequences of its production and consumption. It will be of interest to a wide readership including professionals and academics in food and agricultural production, human health and nutrition, environmental science, and regulatory and policy making bodies around the world."
– Amazon

Title photo courtesy of GatesNotes

#NOTABLE
Want more updates on the most Notable things happening so you know before your colleagues do? Get our exclusive newsletter here and follow us on Twitter for all the latest.