2015 has been a great year in Toronto for things that end in "…fest". From Mac 'n Cheese, to Sake, Jazz, and Craft Beer, we pretty much nailed it.
But the year of fests is far from over and just around ze corner is a big one this city always does well; Oktoberfest.
So dust off your tight brown shorts, stretch out those suspenders, and get ready for some chanting and chugging; here are the best Oktoberfest festivities coming up in the Toronto area that you'll probably want to go polka round…
[ad_bb1]
Steam Whistle Oktoberfest
When: 2pm – 11pm, Saturday September 19
Where: Steamwhistle Roundhouse
How Much: $30 door / $25 advance
You know these guys know how to throw a party. As usual, the good green folks will have traditional German food, German musicians, and German dancers to entertain you as you chug from your collectible Steam Whistle Pilsner stein. Make sure you don't hold back on the wardrobe either; they're giving out awards for best costumes.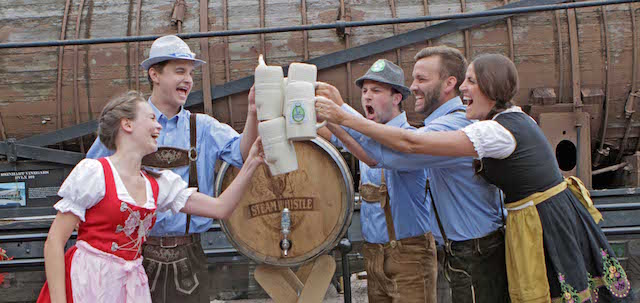 Toronto Oktoberfest
When: 11:30am – 11:00pm, September 18 and 19
Where: 955 Lakeshore Blvd. East (Tent in Ontario Place east parking lot)
How Much: $22-$30 General Admission, $80-100 VIP, $275/$800/$900 Table of 10
Being touted as "Toronto's only authentic Oktoberfest party," it will certainly be the biggest; the tent in which they're hosting the party is 30,000 sq. feet. On the Saturday, there are two separate sessions; 11:30am-4:30pm and 6:00pm-11:00pm. The first 500 entrants to each session get a free 1L beer stein and then once you're in, pay cash for all the beer, food, contests, and games your lederhosen can handle. And, oh yes, there will be polka dancing.
Oktoberfest at Amsterdam Brewhaüs
When: 11:00am – 2:00am, October 2 and 3
Where: Amsterdam Brewhouse
How Much: No charge
No special admission fee required, just get online and reserve a seat; hopefully the weather is still patio-friendly. They'll have one-litre and half-litre steins for sale, a special Oktoberfest menu (sauerkraut, schnitzel, and sausage, oh my!) and a live band starting at 8pm both nights. Amsterdam ain't quite Munich, but once you're 3 steins deep, you probably won't notice the difference.
OktoberFEAST
When: 6:00pm – 11:00pm, Thursday October 8
Where: Berkeley Church
How Much: $40 General, $60 VIP
All proceeds from OktoberFEAST go towards supporting the Canadian Cancer Society and all food and drink is being provided by top notch local vendors; Cheesewerks, Thoroughbred, Barque, Beau's All Natural Brewing Company, Junction Craft Brewing, and Ironwood Hard Cider to name a few. Food and beverage tickets will be available for purchase once you're in. They're also setting up a dance floor and an outdoor bonfire to keep everyone nice and toasty.
Mill Street Beer Hall Oktoberfest Party
When: 5:00pm – 2:45am, Saturday September 26
Where: Mill Street Brewery (Beer Hall in the Distillery)
How Much: $30
One of the better bangs for your bück, a ticket to this event scores you admission and three drink tickets as well as collector's Mill Street Oktoberfest stein. And their Oktoberfest Lager is really, really tasty. Live music, entertainment, and a traditional Bavarian menu will be available all evening. Tickets can only be purchased at their Mill Street Brewpub retail store, so if you're planning on going, it's probably vise to make your vay over zere soonah raza zan latah.
Kitchener-Waterloo Oktoberfest
When: October 9 – 17
Where: Events all around the city
How Much: Varies
Ya ya ya, it's not Toronto, but it's close enough and big enough that we'd be remiss not to just remind you about this prolonged prost to Bavaria. There's a Gala Ball, a 5k run in support of Big Brothers Big Sisters, a bunch of restaurants participating in "Oktoberlicious", a golf tournament, and of course a parade and several evenings of lederhosen and long-pouring. It might just be worth the drive…and maybe a night at a hotel.
[ad_bb2]