Flights? Check.
Cash? Check.
What happens in Vegas stays in Vegas? Check.
What's missing?
Oh, right – a hotel room fit for a royal family.
Perhaps more than any other city in the world, choosing where to stay in Las Vegas is critical. It's as key to the experience as shade in the desert. Which is to say, you're going to want to splurge on accommodations.
Like, extravagantly.
The only question left is where to splash the cash. And unlike tossing Benjamins on some quick roulette, we're here with the perfect picks – guaranteed. 
In fact, we have seven of them. Take a look inside seven of the coolest hotels in Las Vegas and try telling us you wouldn't double a hard 12 just to get there…
[ad_bb1]
1. Wynn – Fairway Villa
Amenities: Panoramic view of the Wynn Golf Course, private balconies, massage room, work space, mahogany and granite wet bar, two pristine marble bathrooms with rain shower and infinity-edged bathtub, personal ambassador.
Why you should stay there: Wynn's Fairway Villa is literally a home away from home, with ample room to entertain and unwind. How often can you say you kicked off your visit with a personal ambassador?
2. The Cosmopolitan – Bungalow
Amenities: Poolside, floor-to-ceiling windows, boudoir, lounge area, marble floors, double showers, outdoor kitchenette & bar, private heated plunge pool.
Why you should stay there: OK, so it's not technically a bungalow. (There's enough of those in the suburbs). But if you want a full house on your Vegas vacation, this three-level masterpiece should cover it.
3. Four Seasons – Presidential Strip-View Suite
Amenities: Daily breakfast for two people at Veranda or Room Service, round-trip transfer from McCarran International Airport, marble bathroom, modern art pieces, separate dining room, kitchen pantry, full-size fridge, 55-inch LED TV with 60 HD channels.
Why you should stay there: Surely you've wondered where the Great Gatsby would stay had he vacationed in Vegas. Well, here's your answer. Daisy Buchanan not included.
4. MGM Grand – Skyline Terrace Suite
Amenities: 786-square-foot private terrace, unparalleled views of the Strip, flat screen HDTVs throughout, oversized whirlpool spa tub, complete minibar, wet bar, in-room dining, two floors.
Why you should stay there:  If you have old-school class and enjoy a second-floor master bedroom with terrace as opposed to a ground floor cabana.
5. Palms Casino and Resort – Hardwood Suite
Amenities: FULL INDOOR BASKETBALL COURT. Lounge with dance floor, weekend butler service, pool table, XL Murphy beds, 3.5 bathrooms, 10,000 square feet of space.
Why you should stay there: If you're a baller of any sort – whether the NBA type or just someone who lives life like on big never-ending rap video – look no further than the hardwood.
6. Mandarin Oriental – Emperor Suite
Amenities: Goose down bedding and pillow service, work desk, Bang & Olufsen televisions and audio systems, HD digital content on-demand, elegant Oriental touches and chic, contemporary styling.
Why you should stay there: Did someone say 'parties'? Yup, they did, and that someone is the Mandarin Oriental. How often do you find a hotel that boasts "the perfect location for exclusive parties…?"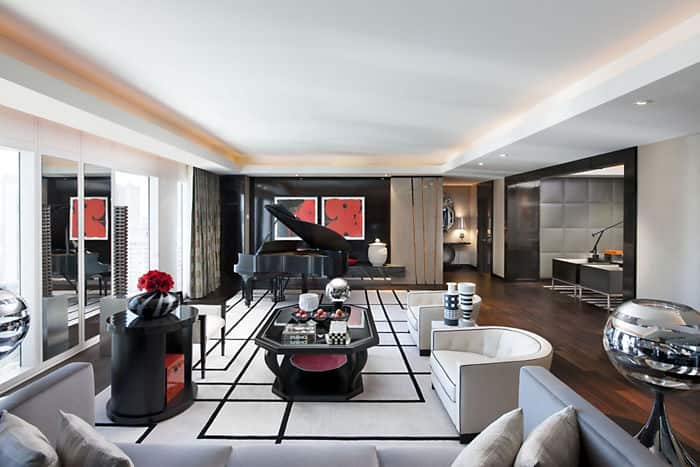 7. Caesar Palace's Nobu Hotel – Villa
Amenities: Three bedrooms, 10,000 square feet, lemon-ginger scents, chef meals, spa services, zen garden, Italian-made whirlpool, complimentary airport limo service.
Why you should stay there: Caesars Palace isn't just a stamp on the property – it's also a fitting name for this opulent villa, where the Roman statesman would have checked in had he set his eyes on Vegas. If you like dropping a down payment on a night's stay, this is your spot.
[ad_bb2]