Anyone who's looked at a weather forecast for this week will know that we're not exactly out of the woods yet when it comes to winter.
But, hey, we can dream.
If groundhogs are anything to go by, the consensus opinion is that spring will soon be sprung – and with it comes not only better weather (we hope), but also a lot of great events to get excited about.
So calendars at the ready, because here are just some of the best Toronto has to offer…
Steampunk Gala
This March 4, enjoy an evening of contemporary dance from Canada's National Ballet School as the Steampunk Gala perform at the Carlu. Enjoy cocktails, dinner and some truly breathtaking post-modern performances that will turn your understanding of the delicate dance form on its head – on point in all senses of the word.
Toronto Antiques and Vintage Clothing Fair
Both the Antique and Vintage Market and the Vintage Clothing Fair will be hitting Exhibition Place on March 5 and 6, and the $10 fee will permit you entry to both. From retro clothing to designer apparel and curated vintage clothing and accessories from the Fashion History Museum, there's something to satisfy all shoppers – just remember to bring cash as many vendors won't accept card.  
Canadian Film Fest
We all know that Toronto loves film, but March sees the city turn its gaze away from international efforts and towards homegrown talent of its own. The festival (March 30 – April 2) will showcase short and feature length films in downtown Toronto locations, as well as some meet and greet sessions and panels.
Sugarbush Maple Syrup Festival
Nothing could say (Canadian) spring better than tapping maple trees for some of that golden syrupy goodness. Woodbridge and Stouffville will be running their annual festival (March 5 to April 3) so you'll have to vacate downtown Toronto for the day – but if being at one with nature isn't reward enough for you, how do pancakes smothered in maple syrup sound? Aunt Jemima has nothing.
Toronto Sketch Comedy Festival
Catch one of over 70 shows at this year's TOsketchfest, running for 11 days (March 3 – 13) on five different stages. North America's finest will be performing live scripted pieces to Toronto audiences, as well as their annual Sketch Com-Ageddon comedy tournament, which should not be missed by fans of Saturday Night Live.
St Patrick's Day
Paddy's day isn't just a chance for you to exhibit your terrible Irish accent – the city has lots of events going on this March 17. This year's festivities fall on a Thursday and a whole host of bars will be on hand to help you celebrate with a pint (or five) of Guinness. But if that doesn't suit you, Brassaii is having a St. Party's Day festival to celebrate the weekend before and there's even a parade on March 13.
Tattoos: Ritual. Identity. Obsession. Art. 
Tattoos are more than just a juvenile mistake, thank you very much, mother. It's an art form. And as such, the ROM is bringing the practice of tattooing to our attention in this new exhibition, which is relocating from Paris. Exploring the long and fascinating history of tattoos, from ancient day to mainstream society, it showcases a visual history of body art and markings. Opens April 2.
Memory Ball
This April 2 at the Palais Royale Ballroom, so grab your glad rags and make sure you're in attendance for one of Toronto's biggest charity galas. The ball, which raises money for the Alzheimer Society of Toronto, will have an open bar, appetizers, silent auction, live band and photo booth. Plus Burrito Boyz will be providing the 'drunk food' for the evening, with a special late night snack on hand for revellers.
Gladstone Grow Op
Earth Day and spring get one big giant hug from the Gladstone Hotel, which is putting on an exhibition on Urbanism, Landscape and Contemporary Art this April 21-24. The four-day display will start a conversation about the rapidly changing nature of our landscapes through contemporary art and design with a collection from artists, farmers, explorers, anthropologists, healers and historians.
AGO Massive Party
The AGO will be transforming on April 21 for a night of art, mystery and magic. The masquerade party will host an evening of interactive installations, giant projections, DJs, and live music as they present the 12th annual Massive Party. Enjoy the artists' work as you sip cocktails at Toronto's ultimate contemporary art party. And the best part? Not a screaming child in sight; this event is 19+.
Hot Docs 
Louis C.K had a point at the Oscars: documentaries are the unsung heroes of the filmmaking world. So don't miss out on the more than 200 films on offer at this year's Hot Docs Canadian International Documentary Festival. The festival runs from April 28 – May 8 and films will be announced in March.
Toronto Fashion Week
The outlandish designer hats, shoes and outfits that we see strut down the catwalk in Toronto may seem silly, but they'll eventually filter down to the sartorial styles and trends that make it to the stores that we shop in – so for the fashion-focused among us, take note. Toronto Fashion Week runs from March 14-18.
Operanation: Queen of the Night
If you think the opera is outdated, then you've probably never been to Operanation. Combining art, culture, music and fashion for one crazy night, the event takes a modern spin on the genre, making it accessible and fun for all – from aficionados to would-be opera-goers. Rufus Wainwright and Nelly Furtado are just some of the past musical guests to grace the event, which happens on May 19 at the Four Seasons Centre.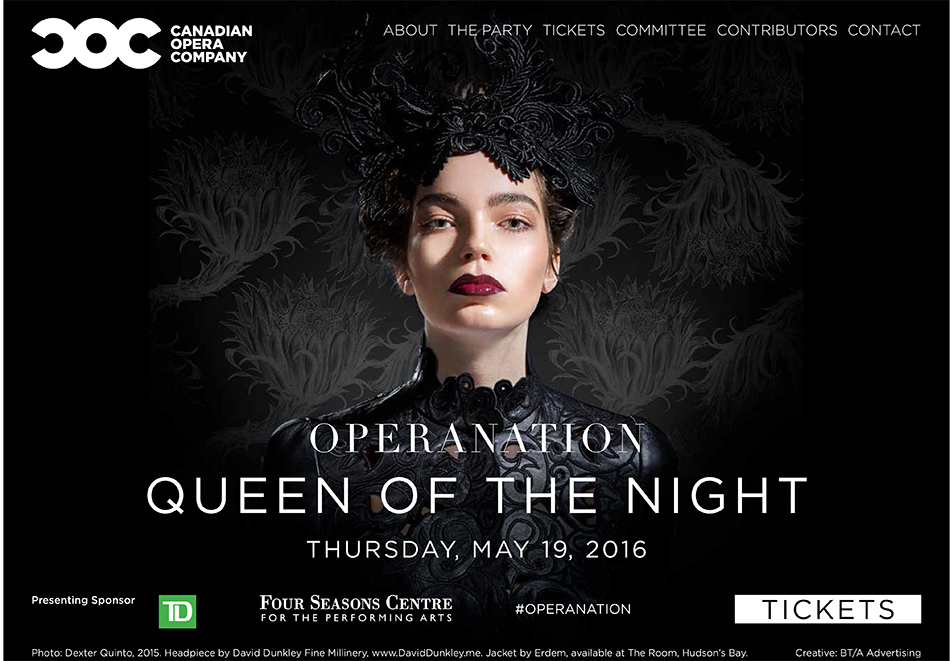 Bestival
The two-day festival returns for its second year, but for those who like their music without a side of waiting in line for ferries, rejoice. The festival will hit Toronto on June 11 and 12, but is relocating to Woodbine Park on the city's east side instead of taking place on Toronto Island. The lineup is yet to be announced, but when they do you can get your tickets here.
Toronto Craft Beer Festival
Toast the beginning of summer with this festival at Exhibition Place, which celebrates independent craft brewers in the most appropriate way possible – drinking delicious beer. Enjoy your brew from the beautiful tree-lined courtyard and sample the food, activities and live music available from June 17-19.
[ad_bb1]