Just about everyone loves a good sandwich, from the lettered simplicity of a PB&J or BLT to the soggy intensity of some prime pulled pork or a crispy cut of breaded veal. You could make a good one at home, but in a city like Toronto, the options, like many of the sandwiches themselves, are stacked. So you'd be wise to get your buns over to at least one of these amazing sandwich spots as soon as possible.
[ad_bb1]
Tony & Nick's Place
While the pizza looks fluffy and distracting, go here for the veal sandwich. And definitely get it with mushrooms, hot peppers and cheese.
Sanagan's Meat Locker
Everything. All of it. Just get all of it.
Cheesewerks
Last year you voted them as the best grilled cheese in the city and luckily not a whole lot has changed since then. They take their cheese very seriously.
Smoque N' Bones
Perhaps the best BBQ sandwiches in the city, the brisket and the pulled pork here are just awesome.
The Wren
Apricot Chipotle Pork Sandwich. Enough said.
Bitondo's Pizzeria
Doesn't look like much, but if you're in the game for a huge veal sandwich at a great price, this is a must-try.
Brock Sandwich
Great roast beef and prosciutto sandwiches, but the highlight may actually be their two vegan options: the Vegan Crispy Zucchini and the Vegan BBQ Smoked Jackfruit.
Rasta Pasta
Try the jerk chicken panini or the Milano-jerk meatballs with spicy tomato sauce. If there's any left, that is…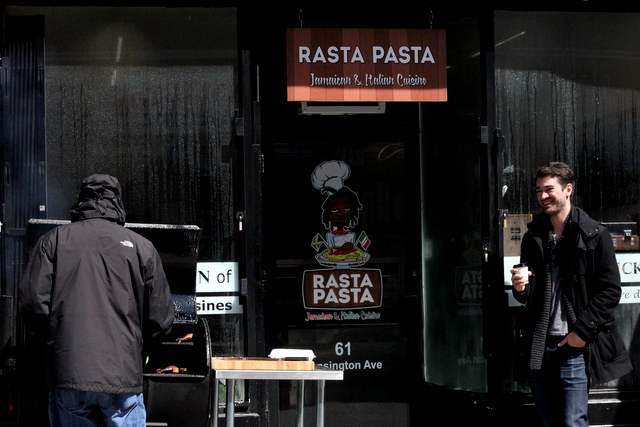 The Hogtown Cure
From the breakfast wraps to the signature pulled pork or smoked chicken club with two-year-old cheddar, you cannot make a wrong order here.
Dirty Bird
Not the for the calorie-counters out there, the waffle-packaged fried chicken with either The ODB or The Dirty Club are worth the extra trips to the gym.
Carousel Bakery
If you like peameal bacon, you will love this place. And what proper Canadian doesn't love peameal bacon??
Black Camel
Representing the Rosedale 'hood, their slow-roasted beef brisket and their pulled pork shoulder is worth a trip north of Bloor.
Sky Blue Sky Sandwich Company LTD.
With 35 options on the menu, including 10 vegetarian options, this sandwich specialty shop has something for everyone. And full marks for creative naming (e.g., Heavy Metal Drummer, We're Just Friends, Hell is Chrome, At Least That's What You Said)
Corned Beef House
The size options are "Huge," "Gigantic," and "Colossal," If you can actually eat the Colossal, you might not be human.
Rashers
All bacon, all the time. The Apple & Maple Grilled Cheese and the Brie & Bacon are solid moves, and their smoked bacon is always delicious. You know, if you're into that kind of stuff.
Completo
The go-to here is the Churrassco, but the Loaded Grilled Cheese with hot sauce, mashed avocado and refried beans is also a fine choice.
[ad_bb2]