Cabbies across Paris are setting the city on fire to protest Uber's presence in the French capital.
The unionized taxi drivers blocked Paris' ring road, including access to both the airport and Gare du Nord, with burning tires and also overturned cars as part of the tantrum. Cars that were suspected of belonging to Uber drivers were pelted with various flying objects, and even licensed taxis that didn't join in the chaos were attacked.
The violent protests in Paris are part of a nationwide demonstration against competition from Uber, which ignores many of the regulations that bind the taxi industry. Lawsuits and opposition against the company are rampant worldwide, but today's reaction is by far the most pervasive street-level action.
We can't help but wonder if the taxi drivers aren't hurting their cause more than helping it here – given that this behaviour is likely to make people dislike taxis even more.
Foreign news correspondent Courtney Love – the Courtney Love – is among those held 'hostage' amidst the chaos, asking French Prime Minister Francois Hollande where the f*cking police are and if this is the work of some sort of French Taliban. She's called it the "scariest day of her life," which is insane because, you know, 1994.
François Hollande where are the fucking police??? is it legal for your people to attack visitors? Get your ass to the airport. Wtf???

— Courtney Love Cobain (@Courtney) June 25, 2015
She's fine, by the way, and just #happytobealive. Paris on the hand, not so much.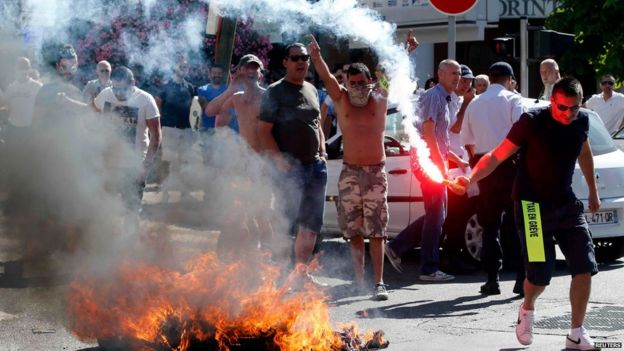 [ad_bb1]