We're the most promising tech city in the world. We excel at livability. We put more effort into milkshakes than public transportation. And, by God, we have Auston Matthews.
And that's on top of being the divinely chosen Centre of the Universe.
This place should be a millennial utopia, yet almost half of young people want to get the f*ck out.
A recent Angus-Reid poll revealed that 45 per cent of people between 18 and 34 years of age are "seriously thinking about leaving the GTA."
Is it the traffic? Shitty bike lanes? Knowing we share a city with The Worst Man in the World?
Not quite. It's about affordability. Specifically, it's about millennials having no chance in hell of owning a home.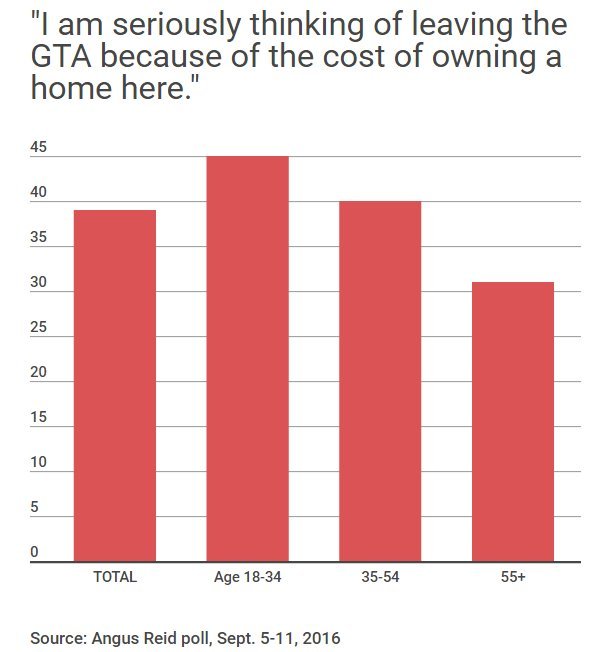 The average price of a home in Greater Toronto has doubled in the past eight years – $379,347 in 2005 to $755,755 this year – according to data from the Toronto Real Estate Board.
Those on the West Coast know what we're griping about, of course – young people in Vancouver literally can't afford to live there anymore – and their problem is about to exacerbate ours. A look at the effect of British Columbia's recently introduced foreign buyer tax on Canada's two largest real estate centres reveals a bleak future for home ownership in the Toronto: the number of home sales rose 21.5 per cent in Toronto during the month of September, while home sales in Vancouver dropped almost 33 per cent.
It's not surprising, then, that many want Toronto to have a similar tax.
The Angus Reid poll found that more than three-quarters of respondents said they would support a 15 percent foreign buyer tax, the same rate as B.C.
Millennials' parents, meanwhile, are content – and able – to stay put. Only 31 per cent of respondents over the age of 55, who have the highest home ownership rate, said they seriously think about leaving the GTA over the price of housing.
Don't mind if we move in.
[ninja_form id=104]
[ad_bb1]