There are a lot of things we love about Europe – thrifty travel options, hidden gem cities and breathtaking islands are just a few of them.
We'd be lying to everyone, however, if we weren't equally drawn to the cuisine. Indeed, the food in Europe is has varied as its history, people, and languages… and maybe the reason we're about to hit up Skyscanner after finishing this sentence.
So brace your appetite – here is one dish in each European country you absolutely have to try if you're there….
[ad_bb1]
Albania: Tavë kosi
Baked lamb and rice with yoghurt sauce – sign us up. 
Andorra: Escudella
Andorran food is essentially derived from Catalan cuisine, such as this meatball and vegetable one-pot stew.
Austria: Wiener Schnitzel
Two things: 1. It has to be veal, and 2. Don't let Germany tell you otherwise.
Belarus: Draniki
Potato pancakes that can be stuffed with caviar, mushrooms, carrot, and whatever you want, really.
Belgium: Carbonade flamande
We know, we know – chocolate, waffles, fries, and beer. You'll forget all about 'em once you have this sweet-sour beef and onion stew made with beer.
Bosnia and Herzegovina: Burek
A meat-filled flaky pastry traditionally rolled in a spiral and cut into sections.
Bulgaria: Tarator
A cold soup made of yogurt, water, minced cucumber, dill, garlic, and sunflower or olive oil.
Croatia: Zagorski Štrukli
It's almost impossible to choose just one, but you can't go wrong with this pastry filled with a mixture of cottage cheese with eggs, sour cream and salt.
Czech Republic: Beer
The monks considered it food, so you can too.
Denmark: Crispy pork with parsley sauce
Bet you didn't see that coming.
England: Yorkshire pudding
Indeed, there's more to the land than fish and chips.
Estonia: Rye bread
Plain, sure, but it's the best damn bread you'll ever have.
Faroe Islands: Skerpikjøt
Don't try to pronounce eat, just eat the mutton.
Finland: Lohikeitto
A dill soup that consists of salmon filets, potatoes, and leeks.
France: Magret du canard
It's unfair to choose, but this seared duck breast with honey, orange and thyme sounds absolutely divine.
Georgia: Khachapuri
Cheese-filled bread – simple and damn delicious.
Germany: Rouladen
For vegans this is not: A slice of steak rolled around fillings such as cheese, pickles, onions or other meats, like bacon.
Greece: Moussaka
Sorry, souvlaki. A ground meat and eggplant casserole topped with a savoury custard which is then browned in the oven.
Hungary: Goulash
A stew of meat and vegetables seasoned with paprika and other spices – much paprika and many spices.
Iceland: Hákarl
Cured shark meat. Pretty badass.
Ireland: Barmbrack
A traditional fruit cake, likely to soak up all the tea they drink up there.
Italy: Ragu alla Bolognese
Another unfair decision given all of the country's regional specialties. A splendid choice all-around is this relatively simple pasta masterpiece.
Latvia: Patties
Chicken & pork fillets battered in egg and deep fried. Satisfactory.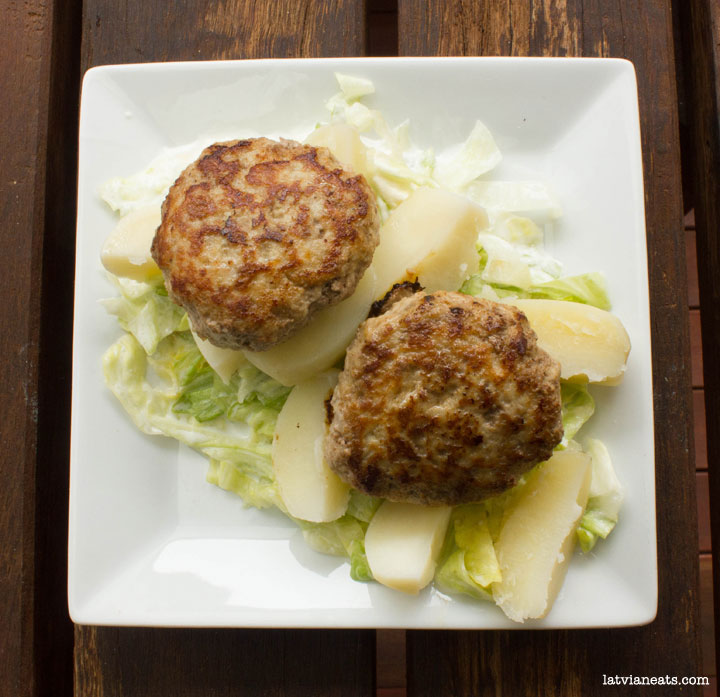 Liechtenstein: Käsknöpfle
It's everything your mac n' cheese wishes it were.
Lithuania: Cepelinai
Potato dumplings stuffed with meat, cheese curds and/or mushrooms.
Luxembourg: Judd mat Gaardebounen
Smoked collar of pork with broad beans. Heavy stuff.
Macedonia: Tavče gravče
A versatile baked bean dish served in traditional earthenware.
Malta: Bragioli
"Beef Olives" – savoury stuffed beef rolls braised in wine.
Moldova: Mămăligă
A well-known Romandian dish, mămăligă a gooey cornbread or thick polenta doused in sour cream.
Monaco: Barbagiuan
Fritters stuffed with Swiss chard and ricotta.
Montenegro: Brav u Mlijeku
You haven't had lamb until it's been cooked in milk.
Netherlands: Boerenkoolstamppot
Curly kale mixed with potatoes, served with gravy, mustard, and rookworst sausage.

Northern Ireland: Ulster fry
Oh yes, they take their breakfast seriously – you may otherwise know this as the 'Full English'.
Norway: Tørrfisk
Sure, it looks like a crusty shoe sole, but let yourself be surprised by this unsalted dried cod.
Poland: Placki ziemniaczane
You had us at "potato pancakes."
Portugal: Rojões à moda do Minho
Pork is the name of the game in Portugal. Go for these chunks of pork loin cooked in pig's lard and seasoned with garlic and white wine.
Romania: Sarmale
Rolled minced pork mixed with rice and herbs and covered in cabbage leaves, accompanied by polenta and sour cream.
Russia: Borscht
We promise it's more appetizing than it sounds. And, really, you can never go wrong with beets.
San Marino: Torta Tre Monti
This country's national dish is a cake, and we couldn't be happier for it – layers of thin waffled wafers cemented together by chocolate or hazelnut creme.

Scotland: Haggis
As if we had to tell you. In case you didn't know, haggis is a savoury pudding containing sheep's pluck (heart, liver and lungs) minced with onion, oatmeal, suet, spices, and salt, mixed with stock, traditionally encased in the animal's stomach.
Serbia: Pljeskavica
A grilled dish of spiced meat patty mixture of pork, beef and lamb.
Slovakia: Bryndzové Halušky
Oh yes: potato dumplings with bryndza sheep cheese and bacon.
Slovenia: Aleluja
Nothing crazy here: a soup made from turnip peels.
Spain: Paella
Another one we didn't need to tell you. Remember: if in doubt, always order the paella.
Sweden: Meatballs
Not just any meatballs, however – it's essential to pair them with lingonberry jam.
Switzerland: Fondue
Cheese melted in white wine flavoured with a bit of garlic and lemon juice – brilliant.
Ukraine: Pierogi
There's never a bad time to load up on several dozen hot doughy pockets of scrumptious fillings, which range from ground meat to potato mash, sauerkraut, onion, and cheese.
Vatican City: Eucharist?
Probably just go for something Roman.
Wales: Bara brith
Translated as 'speckled bread', this is essentially a better version of the fruit cake you grew up never liking.

[ad_bb2]