Ah, Netflix – the biggest movement to reach every country in the world except China since the Internet itself.
Indeed, the beloved streaming service is now available on a global level, blessing every corner of the planet with a hyper-dose of entertainment.
As you'll know, however, exactly what that dose of entertainment entails can vary greatly by region. Complicated licensing agreements prohibit subscribers in, say, all of Europe from accessing some of the titles available in countries with more extensive content libraries.
Even we in Canada, a mere hop, skip and jump away from the United States, which boasts the largest selection of content in the world, are restricted from watching some pretty great TV shows and movies. And although most of us have found a way around geo-restrictions, Netflix has cracked down on people using proxies and unblockers to access the service of a country where they don't reside.
So, an important question: where do Netflix audiences get the most bang for their subscription?
Exstreamist recently crunched the numbers to determine the total number of unique titles available in each country where Netflix is available.
While the number one spot should be pretty obvious, there are a few surprises. Canada, for example, does not fall within the top 10: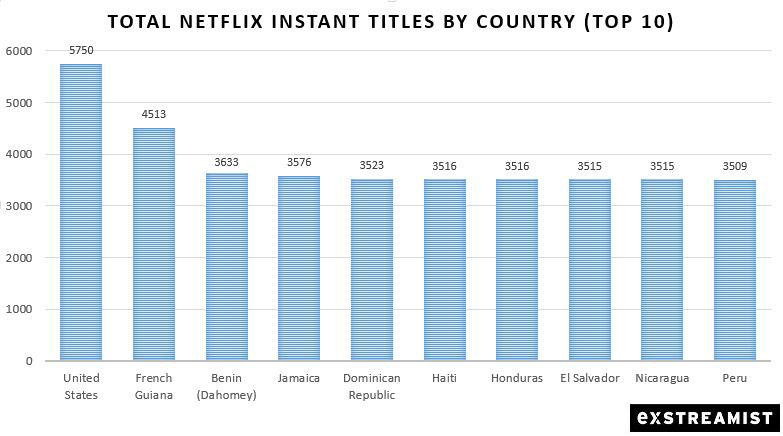 So if you really love Netflix and a Green Card is out of the picture, we can suggest a move to the Caribbean or Central America.
Canada placed 13th overall, with 3185 titles available to stream. The bottom 10, meanwhile, looks like this: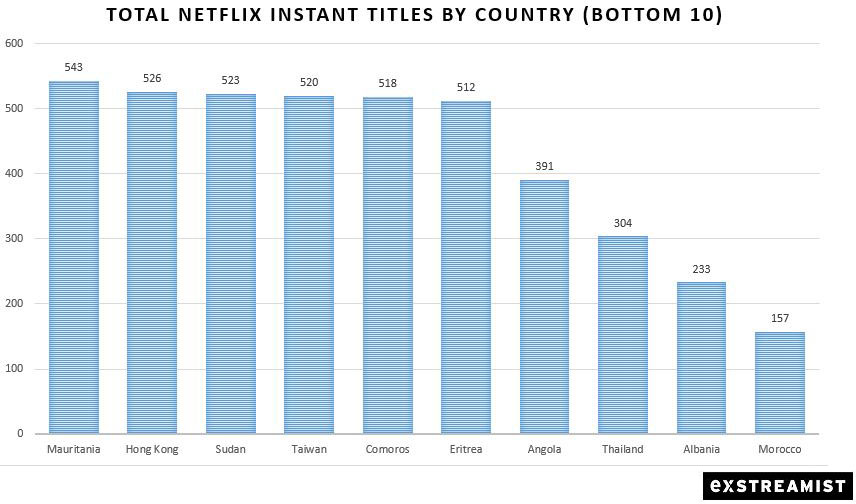 A few interesting findings from the data, per Exstreamist:
– You can stream more titles on Netflix in the Australian region of Antarctica than you can in places like France, Germany and Japan.
– Netflix original 'House of Cards' is actually not streaming in a large portion of countries where Netflix is now available. Complicated ownership rights have prevented Netflix from streaming the series outright globally.
– South and Central America are definitely the best regions outside of the U.S., surpassing Canada and most of the EU for total titles available.
-. Taking into account the exchange rates on currency around the world, the US is still the best value dollar-per-title ($8.99 USD for 5750 titles). Denmark is one of the most expensive of the larger libraries ($15.11 for 2140 titles).
[ad_bb1]