We all know about paying it forward.
The idea of spreading joy to others and the notion of random acts of kindness is something that we could all use a little more of in our daily lives.
New York Attorney, Steven Reisman, has been paying it forward – quite literally – for years. It all started back in 2005 when he was given a rare $2 bill (USD) in change from a taxi driver. Considering the encounter lucky, Reisman went directly to the bank and bought all the $2 bills they would give him. Ever since, he's been handing out the dollar bills to clients, friends, and even on subway seats, in the hope that this cycle of goodwill may be perpetuated.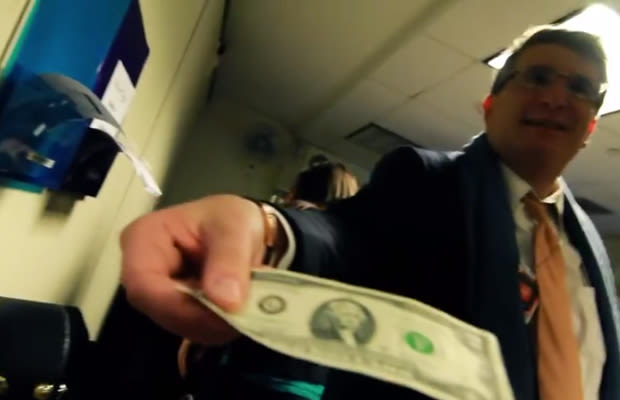 "My hope is that if the $2 bill makes someone's day brighter, they'll pass it on by being nicer and brightening someone else's day and so on" said Reisman to his alma mater St John's University.
But the guy nicknamed 'The $2 Bill Man', courtesy of his penchant for rubbing shoulders with celebrities like Jay-Z and Kanye (and giving them $2 bills, obviously), was about to experience his acts of kindness come around full circle.
Toronto's Israel Schachter, owner of CharityBids and a friend of Reisman, watched for years as Reisman gave out the lucky notes behind the scenes at concerts, and was impressed by his good deeds.
"I've always wondered how to repay someone who goes so far out of their way to make others happy and to try and bring "luck" to them. He's always available, always ready to give guidance and advice, and really wants to help others. It's amazing" said Schachter.
Looking for a way to reward his charity, Schachter came up with the idea to present a gift to the generous lawyer himself, by commissioning Miami artist, Mister E, to make the biggest $2 bill Reisman had ever seen.
The bill, which is red and black (like the colours of Reisman's college), contains several references to Steve, including his initials and an allusion to his friend from the '6ix' who commissioned it for him.
Schachter and Mister E presented the bill to Reisman on New Year's Eve at the Faena Hotel in Miami, where he was so enamoured with the gift he was unable to resist immediately paying it forward once again.
Reisman asked Mister E to commission a $100 Canadian bill to give as a gift to none other than Drake.
Move over Norm Kelly. Steve Reisman is next in line to be christened Toronto's '6 Dad'.
[ad_bb1]