So, you want to follow the money.
Unsurprisingly, the province you live in could play a significant role in determining your salary. In fact, there's a $333 swing in the weekly salary between Canada's highest-earning province and the lowest.
Let's start on the low end.
According to Statistics Canada, you'll want to avoid the East Coast – except Newfoundland. While P.E.I., Nova Scotia, and New Brunswick rank as the lowest-earning provinces nationwide, respectively, Newfoundland boasts the second-highest wages in the country.
So, who's on top?
That would be oil country, of course – Alberta.
Alberta's average weekly wage of $1,146.56 is nearly 20 per cent higher than the national average of $959.
New earnings data released today. AB earnings up, and still *much* higher than rest of Canada. #ableg #cdnecon pic.twitter.com/QoxkyLoBnT

— Trevor Tombe (@trevortombe) February 25, 2016
Before you head West, however, there's something important consider: Alberta is also the only province in Canada that saw its wages fall compared to last year, which is largely the result of nearly 70,000 position evaporating over a 12-month span.
Ontario, meanwhile, has posted the most significant wage growth.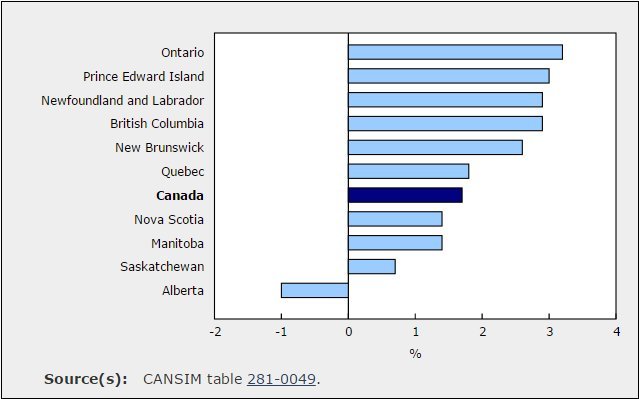 A full breakdown of wages by province below, via the Huffington Post with data from Statistics Canada: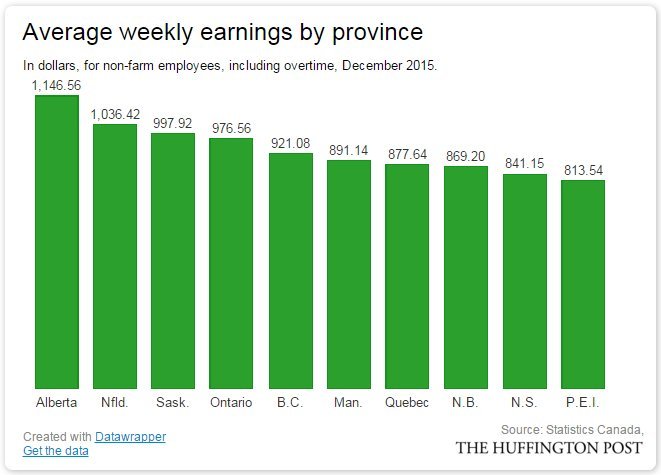 [ad_bb1]