Some things can bring an entire country together.
The 2010 men's hockey game for Gold. The Tragically Hip's last concert. Mr. Dressup.
According to a nationwide survey that last several weeks and tallied more than 400,000 votes, Mr. Dressup has been crowned 'Canada's Most Memorable (English) TV Thing'.
The survey, which played out in a bracket-style tournament of 64 'things', was created by CBC journalist and Canadian entertainment superfan Justin McElroy. It included some pretty fantastic selections, such as Body Break (with Hal Johnson and Joanne McLeod!), Jonovision, Are You Afraid of the Dark?, Trailer Park Boys, and Kenny vs. Spenny, just to name a few. (See all candidates here).
The final saw Mr. Dressup face off against Kids in the Hall, with the former taking 62% of the vote. Coincidentally, the late Ernie Coombs, who played the iconic Mr. Dressup, would have turned 90 on Sunday, the final day of voting.
A third-place matchup saw Heritage Minutes defeat Degrassi by a 58-42 margin. A full breakdown of the tournament below: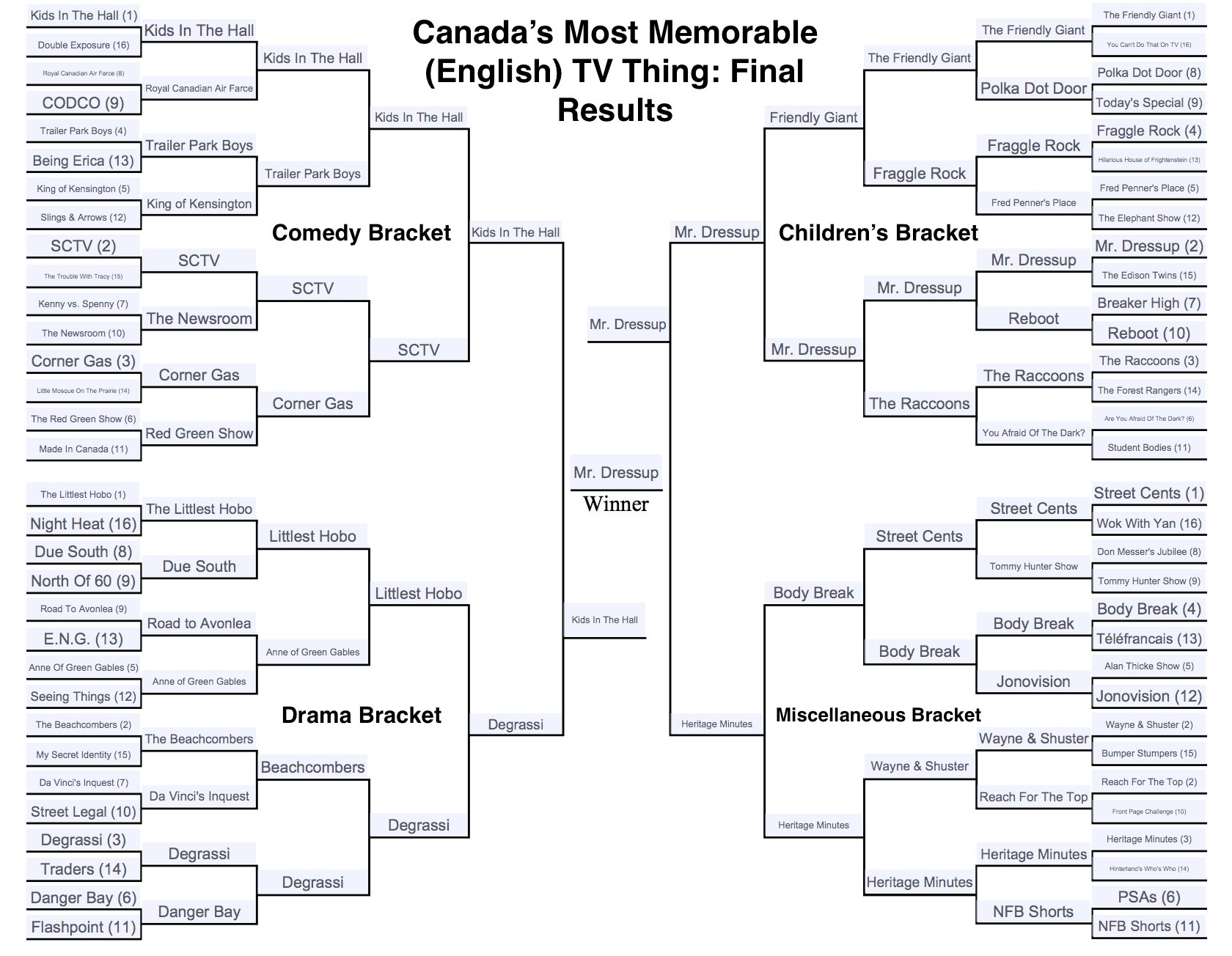 "Mr. Dressup is all about the broad strokes: your childhood, a feeling a comfort, a bonding of generations, 30 years of repetition, 30 years of crafts and sketches and costumes that are geared towards young children, but fundamentally accessible to all ages," explained McElroy in a blog post announcing the final.
"Kids In The Hall is, um, not Mr. Dressup. It's focused, passionate, character-driven sketch comedy, a cult hit that went big if there ever was one, a show of weird and daring conceits, a show for when you were 15 to 24, and somewhat difficult to understand if you didn't love it during those years."
Fans were quick to point out how each show reflected a greater part of our identity.
Really, aren't they both the winners? Mr. Dressup helped instil the niceness and coziness values Canadians share; KITH reflected the self-effacing and power -mocking humour that keeps us humble. https://t.co/xrmEGDxjZv

— Marcella Munro (@marcellam) November 23, 2017
The truth is, we're all winners: as of a few weeks ago, you can stream some of Canada's best TV shows and movies from free on the YouTube channel encore+.