Christmas may be over, but we're not here to suggest that you reign in your blood-alcohol level just yet.
Instead, we're merely proposing that you try some of these alternative holiday drinks between now and New Year's Eve.
They might just end up becoming a new winter tradition of their own.
[ad_bb1]
Winter Cranberry Martini
If you like your martini's seasonally shaken not stirred, this gin-based drink is a great wintery twist on the classic cocktail. The cranberry contingent of the drink is full of health benefits like Vitamin C and antioxidants so you can feel guilt-free about sinking a few glasses of these on New Year's Eve.
– 2 ounces of gin
– 1 ounce of cranberry-infused simple syrup
– 1 ounce of vermouth
– Fresh cranberries (garnish)
– Rosemary (garnish)
Cranberry-infused syrup
1 cup of fresh cranberries 3/4 cup of water 1/3 cup of sugar
Holiday Mule
The Moscow Mule is already a great wintery drink thanks to its Russian theme (see: vodka as core ingredient). Add to that some spicy ginger beer, cranberry, and orange slices and you've got yourself a new go-to holiday cocktail. Serve in a copper mug and garnish with rosemary and whole cranberries for the complete works.
– 1/2 oz unsweetened cranberry juice
– 1 1/2 oz gin or vodka
– 2 oz chilled ginger beer
– 1 rosemary sprig
– orange slice, for garnish
– sugared cranberries, for garnish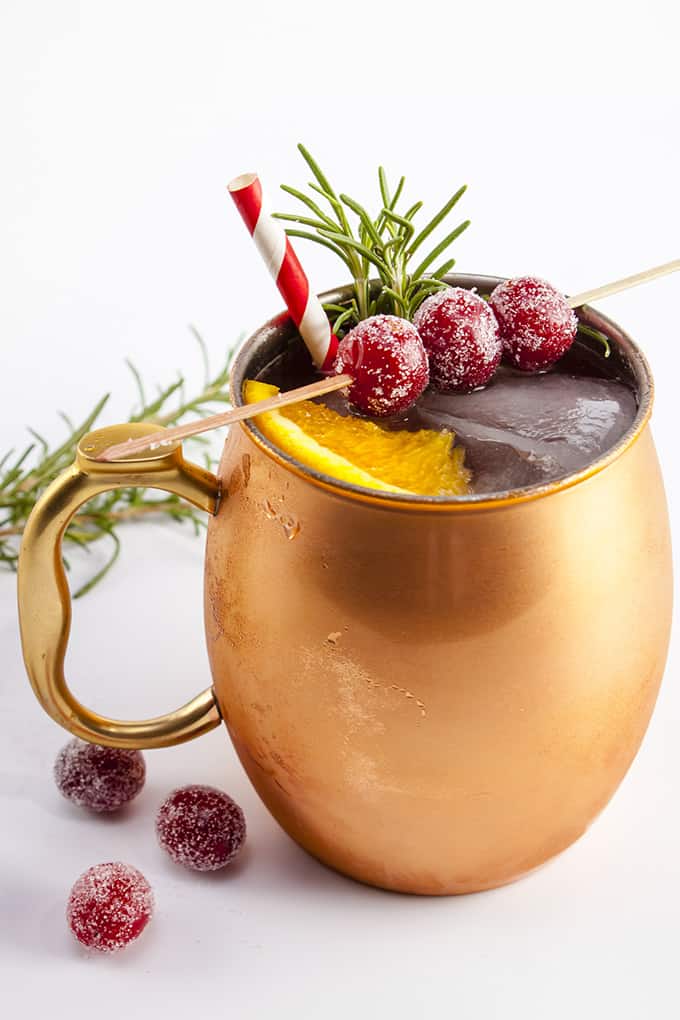 Winter Sangria
The Spanish drink may call to mind sunny beach holidays on the Mediterranean, but with a couple of choice substitutes this can easily become a festive favourite. Switch the Sprite for pomegranate juice and strawberries for a cinnamon stick and the transformation to winter staple is complete. Place the chopped fruit into a pitcher, pour over wine and liquor, and add sparkling water and garnishes.
– 1 apple, cut into thin wedges
– 1 navel orange, cut into thin wedges
– 1 cup pomegranate arils
– 1 cinnamon stick
– 1/4 cup pomegranate juice
– 1/2 cup brandy
– 1/4 cup Cointreau
– 1 bottle red wine
– 2 cups sparkling water
– Fresh rosemary for garnish
Blackberry Ombre Sparkler
Champagne on New Year's Eve is mandatory, but that doesn't mean you can't spice things up a little. These are essentially blackberry mimosas with a layered effect that looks incredibly professional but actually requires minimal preparation. Create a syrup by cooking down fruit water and sugar, then spoon into champagne flutes and top with fizz.
– 1 cup fresh blackberries
– 1 cup sugar
– 1 cup water
– 4 sprogs fresh rosemary
– 1 bottle champagne
Hot Buttered Rum
It may sound like something Harry, Hermione, and Ron snuck into their Hogwarts graduation ceremony, but it's the perfect holiday drink for you and your friends to try this season. The winter warmer is a cozy beverage that doesn't skimp on alcohol, so if you're joining your friends outside you can keep yourself toasty. For extra decadence add whipped cream or ice cream.
For the Spiced Butter mixture:
– 1 stick butter
– ½ C. brown sugar
– 1½ tsp. cinnamon
– 1 tsp. nutmeg
– ½ tsp. cloves
– ½ tsp. ginger
For the Hot Butter Rum Cocktail
– 1 heaping spoonful of the Spiced Butter
– 1 shot dark rum (I used Meyers)
– Boiling hot water
For the Garnish:
– orange peel
– cinnamon stick 
[ad_bb2]