With that in mind, when Valentine's Day rolls around and I found myself single, I take a different approach than drowning my sorrows in chocolate – I see it as an opportunity to find empowerment in celebrating myself instead. I like to be spoiled, and if there is no one around to spoil me then dammit I'll do it myself. This kind of celebration calls for an upgrade on the "traditional" single Valentine's Day ice cream and romcoms on the couch. In my case, one of my favourite indulgences is 5 star food so naturally I decided to include a lobster dinner in my plans. Aside from the fact that they pair amazingly with butter, lobsters mate for life. See? Single V-day plans can be super romantic.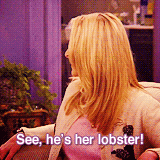 That being said, dinner for one on Valentine's day at a sit down restaurant sounds like a nightmare. I'm not looking to overpay for fixed priced menus surrounded by doting couples. This celebration is all about me after all. I figured Bluenose Lobster at Assembly Chef's Hall would be the ideal solution, it's luxe yet casual and I could decide to stay and eat or take it to go if I so pleased.
When you have one major ingredient on your menu it's important to nail it and let me tell you, Bluenose Lobster does not mess around when it comes to their star ingredient. Lobster is plucked right from Nova Scotia and flown in fresh for your finger-licking enjoyment. I decided to sample a few of the menu items to really make sure I got the full experience.
First up, the Lobster Thermidor: an open-faced lobster smothered in a delicious herbed sauce. As Chef Garth Legree's food is meant to be enjoyed with all the senses, he encouraged me to dig in with my hands and it's definitely the way to go, the flesh is already diced up into perfectly sized chunks so there is no messing around with complicated lobster shell cracking tools.
I'll admit I tend to be a bit of a traditionalist when it comes to certain things – lobster is a perfect example. It's better when it's the main focus and enhanced instead of mixed up in a bunch of complicated flavours. This is why I also decided to try out the Whole Lobster. I didn't know my life was missing lobster dipped in maple butter until I tried this. So simple but the PERFECT indulgent addition to a very hedonistic meal.
Wrapping up my lobster adventure came the Rouleau de Homard (Warm Lobster Roll). A well buttered, toasted bun was the perfect vessel for supple lobster chunks and to top it all off, a juicy dill pickle. (Editors Note: I have quite a few photos of myself sampling the roll but in a difficult editorial decision it was decided that I look like I'm enjoying myself a little too much and that our readers should maybe be shielded from the passionate experience I had with this roll. Just do yourself a favour and order it.)
If you're looking at all this thinking, "That is a hell of a lot of lobster" you are right and I had to take most of it home. Thankfully it was just as amazing later that night from the comfort of my couch.
All in all, I must say this was one of my favourite Valentine's Days ever – mostly because I took matters into my own hands to make it so. If you need an excuse to treat yourself no matter the occasion, Bluenose Lobster and their stacked menu is here to take care of you. Single or coupled up, I hope you can find a way big or small to celebrate the shit out of YOU.