Known for his 4 a.m. workouts and posting impressive shots at the gym accompanied by motivational messages, Dwayne 'The Rock' Johnson is someone we could all learn a few things from.
The hugely successful pro wrestler turned Hollywood star believes it's his early wake-up calls that help him get a head start on the competition – and now he wants to help you get there too.
Johnson has just released The Rock Clock, an alarm clock app for smartphones that's available on both Android and iOS and lets you set long-term projects or time-specific goals.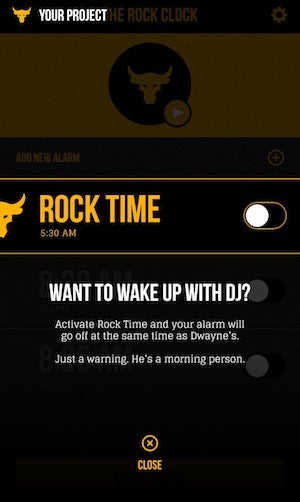 The app comes equipped with a number of ringtones that Johnson created — he even sings and plays the guitar in a few of them. But be warned: waking up to The Rock's acoustic guitar-backed "Good Morning Sunshine" could result in a very weird start to the day.
@Adequate pic.twitter.com/XZP8lFfHsQ

— giri nathan (@girrelevant) May 2, 2016
The most interesting feature lets you sync up your daily sleep cycle with his on "Rock Time." This means your alarm will go off at the same ungodly hour as The Rock, which could serve as serious morning motivation or just make you repulse him completely.
The key to the app is that there's no snooze button. In other words, when The Rock starts yelling that it's time for you to get your ass out of bed, you better get up because he won't stop until you're awake and crying in sleep-deprived frustration on your bathroom floor.
Can you smell what The Rock is cooking? Success, that's what.
[ad_bb1]