Today, Dairy Queen celebrates its 75th birthday.
To mark the occasion, the brand many of us have known and loved since childhood released its new DQ Bakes! product line, with nine new products that fall within three categories: Hot Desserts à la Mode, Artisan-style Sandwiches, and Snack Melts.
And while that's exciting in itself, on her big 75th, here are 8 reasons to celebrate DQ…
[ad_bb1]
1. It's Nostalgic
Because it's been around for your entire life, you probably have memories of DQ visits as far back as your memory goes. Because a visit usually marked a celebration, reward, or special summer treat, the memories are always good ones (unless you dropped your ice cream or fell off your bike on the way home, that is).
2. The Founders Invented Soft-Serve
Not only does DQ serve up soft-serve that no ice cream truck could replicate, its founders actually invented the concept of soft-serve in the first place. John Fremont McCullough and his son Alex developed soft-serve in 1938 and partnered with an ice cream owner to open the first Dairy Queen in 1940 in Joliet, Illinois.
3. A Dairy Queen Cake Makes Birthdays Better
Everyone knows that ice cream cakes are the best types of cakes – especially a Dairy Queen cake. There's nothing better than a combination of ice cream and icing. Plus, you can eat more cake without feeling too full when it's made with ice cream.
4. They Give Away Free Ice Cream
To mark its 75th, the company had "Free Cone Day," back in March, offering free cones of their famous soft-serve (even if it was still below zero outside).
5. Most Locations Have Something for Everyone
Unlike other massive ice cream chains who stick to ice cream and dessert products, most DQ locations have something for everyone – even those without a sweet tooth. This is, of course, because they offer everything from burgers and fries to salads and gooey snack melts. Oh – and don't get us started on their fried cheese curds.
6. The Blizzard. Period.
Other companies have tried to copy Dairy Queen's iconic Blizzard – but nothing is quite like the original. A Blizzard offers a mess-free way to consume your favourite ice cream, sundae toppings, and pieces of cookies, brownies, and candy all at once – and offers so many favour options to choose from.
7. The Company Gives Back
Dairy Queen has a long history of giving back to the community. The company is a major sponsor of Children's Miracle Network, and DQ has raised more than $100 million to this charity since 1984.
8. Trying the Jurassic Smash Will Be a Highlight of Your Summer
The new DQ Jurassic Smashed Blizzard sounds pretty much like a sweet tooth's fantasy. It's complete with smashed up peanut butter cookies and cookie dough. And yes, we're craving it right now. In fact, we'll be right back…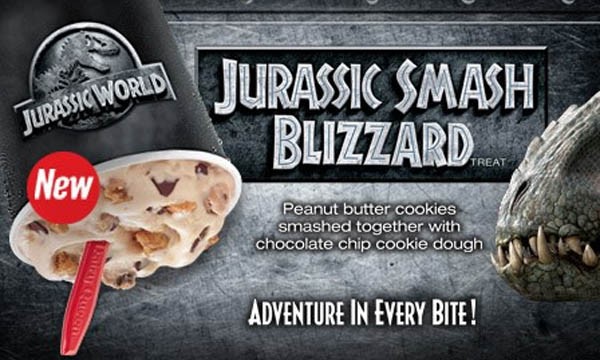 [ad_bb2]