One of the few things we can take solace in regarding our infuriatingly feeble loonie is lower prices at the pumps. Unfortunately, that consolation isn't anywhere near as fruitful as it should be.
According to a report by the Bank of Canada, Canadian gas prices remain relatively high compared to the falling price of oil. While they're both falling simultaneously, congruency between the two just kind of stopped at the beginning of last year.
"Although gasoline prices have declined, they have not fallen as much as the reduction in crude oil prices would suggest, based on historical experience," the report reads. The scenario is illustrated in the chart below: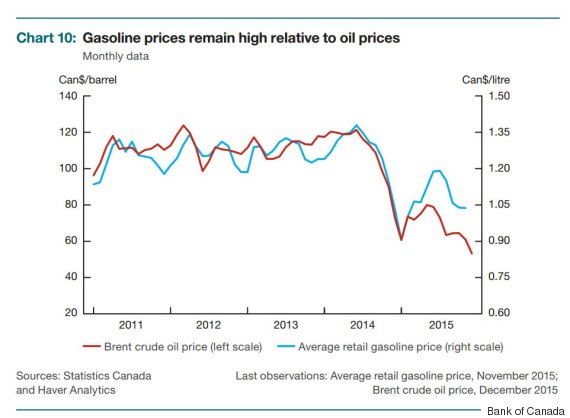 According to the Toronto Star, prices at the gas pump fell 4 per cent in December, but crude prices fell by more than three times that amount during that time.
As with most injustices rampant throughout our world, the blame falls almost entirely on greed by oil companies. Refinery and marketing margins rose to an unprecedented high – 28.9 cents per litre on average in 2015 compared to 17.7 cents a litre between 2000 and 2014 – as oil prices dropped.
"The consumer at the pump is really subsidizing the financial stability of the upstream of the integrated oil companies," said Peter McKnight, an energy analyst with En-Pro International, in an interview with Global News.
In the first few weeks of 2016, the average margin grew even further, to 32.3 cents per litre. The higher margins this and last year compared to the previous 15 years are pure profit.
Another common aspect of customer f*ckover-y is also at play: lack of competition. According to Dan McTeague, a senior petroleum analyst at GasBuddy.com, wholesale gas and retail prices are determined by only a handful of big oil companies. This explains why gas prices across many parts of Canada are considerably higher at Esso, Shell, and PetroCanada stations compared to independent pumps.
And hey, it gets worse.
Inflation is also increasing more rapidly than anticipated, which means the cost of literally everything is going up. Considering gas prices aren't dropping at the rate that they should be, this explains why Canadians are now spending more on food than they're saving to fill up their cars.
The Family Day long weekend (Feb. 15) will offer your next opportunity to see big oil price manipulation in action.
[ad_bb1]