Hate it or love it, most young professionals have to travel for business from time to time. If you log a lot of frequent flyer miles, you know just how gruelling it can be.
Sitting in the airport waiting for my fourth flight in six days, I'm overly caffeinated and slightly sleep deprived, yet perfectly content. Travelling for work can be exhausting and stressful, but there are things you can do to alleviate the toll.
Here are 14 tips to make your next business travel a little less work and a little more pleasurable:
[ad_bb1]
Check in or you're out.
It's 2015: always book your seats or check in ahead of time to avoid getting bumped from your flight.
If you are one of the few passengers who do not do advance check-in, you are taking a gamble that could cost you a lot of time. This happened to a colleague of mine on a recent trip and he ended up spending eight hours at the airport after being bumped from not one, but two flights.
Consider the perks.
Some airlines offer more than just competitive prices. Without even needing elite status, certain airlines offer perks like free drinks and snacks in the lounge and free beer, wine, and Starbucks in-flight. Do some research and find out which airline suits your needs.
You pay enough for your flights; why not take advantage of the little extras?
Kindness goes a long way.
Want to fly through customs at the airport? Want the best hotel room available? Want excellent service at the restaurant? Then be nice.
Airport, hotel, and wait staff have to deal with negative customers all day – don't be one of those people. You may be stressed out on your trip, but being rude to the staff will not get you anywhere.
Since you are on a business trip, it is also important to remember that you are representing your company at all times. You don't want the person sitting behind you – who witnessed your nuclear assault on a flight attendant for serving you apple juice instead of orange – to end up being at the head of your meeting table.
Dress well to get ahead.
Lulus and hoodies might be the most comfortable to travel in, but they won't do much for you in the upgrade department.
When a flight is oversold in economy, agents often choose people to upgrade based on how they are dressed and whether they were nice to staff when they checked in. They want people who look like they will "fit in" in business class and usually look for those travelling alone.
On top of that, if you dress well you will arrive at your destination meeting-ready. Should you bump into your CEO in the lobby, you won't need to worry about your "just got in from the airport, don't mind the outfit" excuses.
Baggage claim? No time for that.
Unless absolutely necessary, never check your bags. Most business trips are short enough that you should be able to get away with only carry-on luggage. It could save you anywhere from minutes to hours, since there's no guarantee your checked bags make it on the same flight that you do.
If you need to bring any large items, it might be a better idea to just ship ahead. Nothing lost and nothing to carry: win-win.
Develop a packing strategy.
If you're going to carry-on your luggage, you need a packing game plan. Heavy items should go on the bottom near the wheels so that lighter items don't get damaged or wrinkled by them. Your business clothes should be wrapped in tissue paper or plastic to keep them clean from everything else in your bag.
If you travel on a regular basis, consider keeping a travel kit partially packed with toiletries, travel toothbrush, lint remover and other items you'll always need – ready to go when you are.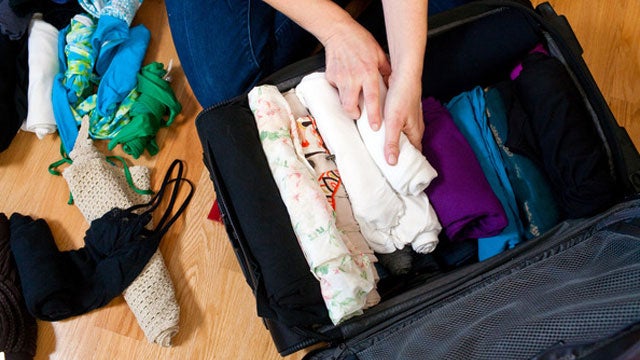 Mix and match your wardrobe.
When you have such a small amount of packing real estate, make as many things as possible dual purpose. Pack outfits that can be paired together throughout your trip. Neutral, black, and white pieces are generally easy to interchange.
If need be, you can always take advantage of your hotel's cleaning service.
You can never be too organized.
Once you have fine-tuned your packing strategy, designate locations to store certain items like travel documents, chargers and electronics, and even your underwear. If you always pack things in the same compartments, packing and unpacking will be much faster.
You'll never be left rummaging for your boarding pass or holding up the aisle of the plane trying to find your book for the flight. Nobody likes those people.
Charge it up.
Speaking of electronics, it's a good idea to fully charge everything the night before you travel. You don't want to be stuck plugged to a wall the minute you get to your hotel. As a back-up plan, charging strips and USB ports are absolute life savers when you're in a jam.
Double (and triple) check that you have all cables, ports, chargers, and adapters you will need – this should go without saying. Don't rely on anyone else to have these, even if the hotel has promised you they have the right equipment. Better to be safe than sorry!
Miles and points and rewards – oh my!
If you travel on a fairly regular basis, be sure to make use of loyalty programs. Not only can you turn your business trip into points that can be used for personal travel later on, there are many other benefits. You can fly through priority lines, access VIP lounges, and receive extra perks like free upgrades.
If you have a rewards credit card as well, use it to pay for everything on your trip and cash in even more points later on!
Get in line! But pick the right one.
Often times, the shortest line is not always the fastest one. Before you commit to a line, check how efficient the agent is and look at who is in the line. Families with small children, persons in need of assistance, and people who look like a deer in headlights due to lack of airport experience are just a few types of people who can slow down a line.
Once you have picked the right line, you'll get through security faster if you have planned ahead. Liquids in a clear bag, laptop out, outerwear off, and any metal items such as belts, keys, and loose change go in the bin. Save yourself the hassle and don't wear boots or heels which you will either have to take off or have patted down. Otherwise, you may get flagged for the body scan.
Non-stop and direct = entirely different.
A lot of people learn this lesson the hard way. A non-stop flight is when the plane flies directly from point A to point B, meaning no stops or layovers. A direct flight, on the other hand, might make stops along the way to pick up or drop off other passengers. You wouldn't have to get off of the plane like you would when you have a layover, but the extra stops can be a pain – especially if your queasy stomach does not take kindly to take offs and landings.
Save yourself the extra time and opt for a direct flight whenever possible.
Arrange transportation ahead of time.
Have you ever been stuck in a strange city searching for a cab or wondered if your chauffer is taking the scenic route to the hotel? I have and that is why I prefer to arrange transportation ahead of time.
Doing this is safer (no need to worry about sketchy illegal cabs), faster (your driver will be waiting for you and will already know your destination), and possibly more cost effective (you're less likely to be driven in circles to raise the faire and more likely to be given a flat rate).
Work hard, play hard.
Business trips don't have to be all work and no fun. It is important to destress along the way to avoid burning out.
Go out for happy hour, try the local cuisine at a recommended restaurant, check out a local event, or meet up with friends along the way. If you're exhausted and prefer to stay in, maybe a massage or bath with a glass of wine is more your speed.
Whatever the case, don't forget to treat yourself. After all, you deserve it!
[ad_bb2]