Arriving on time at your destination is, after arriving at all, the second most important thing about air travel.
Though many flight delays are caused by unforeseeable circumstances, choosing which airline to fly with can also make a big difference between arriving on time and hours later.
Our friends at The 10 and 3 recently crunched the numbers to determine which Canadian airlines are most likely to get you from point A to B on time. And which ones probably won't.
Here's what they found: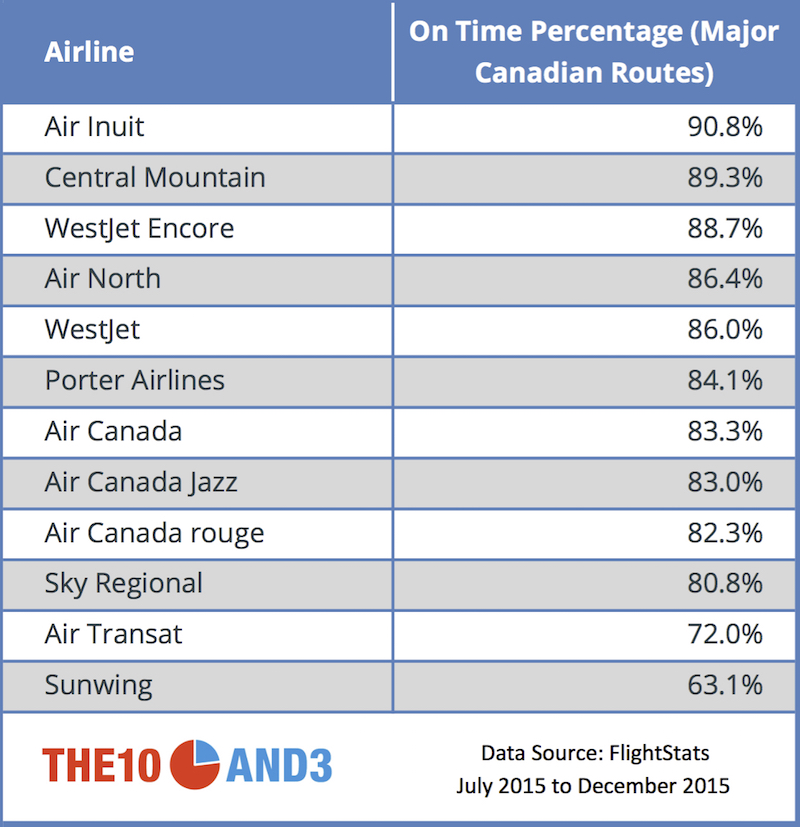 Those are some pretty staggering differences. Though it would be great if we could all fly Air Inuit, it should be noted that its regional operation only boasts a fleet of 28 planes. That said, its pilots also contend with some of the most hostile conditions in the country, so being punctual 91 per cent of the time is more than a little impressive.
Sunwing, meanwhile – basically don't book it unless you have a lot of books to read.
The 10 and 3 also created an interactive map that allows you to input your departure and arrival locations across Canada, and then calculates the on time percentage and average delay time for carriers flying those routes. Flying 50 minutes from Toronto to Montreal with Westjet Encore, for example, will only get you there on time 79 per cent of flights with an average delay of 47 minutes.
The site also considers how much airports play a role in travel punctuality as well as some other fun metrics behind your journey.
Definitely worth checking out.
[ad_bb1]