It's an incredible time to be alive… especially if you prefer to be a hermit.
These days, we can have literally anything and everything we could ever possibly need delivered right to our doors.
While it's probably not great for your mental health to never leave your house and interact with the real world, it sure has saved us at times.
Here are 8 delivery services in Toronto that ensure you'll never have to do anything or go anywhere again.
[ad_bb1]
Simply Laundry
This wash and fold laundry service will come to your door, pick up your laundry, take it back to their facility, and wash it, then neatly fold it and drop it off with your concierge. At just $1.89 per pound of clothes (with pick up and delivery included on orders over $20) it won't cost you much more than doing it yourself at the laundromat – and the added value of not having to lug your clothes there (and having those hours of your free time back) will make it more than worth it. Best of all, they also offer dry cleaning, alterations, and shoe repair – and they'll even come pick up that old bag of clothes you want to donate and drop them off for you at Goodwill.
Grocery Gateway
If you're plagued with living in an area of the city that doesn't have a decent(ly priced) grocery store within walking distance, the worst part of your week likely involves hauling grocery's from your nearest Metro or Loblaws. Grocery Gateway lets you avoid the trip by bringing your grocery list right to your door. The only thing is you'll have to trust they're bringing you the best fruit and veggies in the bunch. Letting a stranger select our produce isn't easy for those of us with control issues.
Helpling
This app allows you to quickly and easily book a cleaning professional to come over and whip your apartment back into shape after that party got a little out of control last night. While a regular maid service might not be in your budget just yet, their prices are reasonable and the flexible availability means you can have someone there in a pinch if things are starting to smell in your house.
Dial A Bottle
Because what's worse than dragging a case of beer home from the beer store? In a city where most people walk or take transit, getting someone else to purchase your booze and bring it to your door is definitely better for your back. If you're feeling really lazy, they'll even go to the corner store for you and grab your cigarettes.
Hurrier
We all know you can get pizza and Chinese delivered from just about anywhere, but some of us prefer to have a wider variety of Toronto's incredible food options available to us. That brings us to Hurrier, the bike courier delivery service that will grab your order from the best Toronto restaurants in the city. Oh and they'll also stop at Shoppers Drug Mart for you if you're in need of some condoms or shampoo.
Come As You Are
If you're a little too shy to go to the sex shop yourself to buy your sex toys in person, Come As You Are is awesome enough to offer a discreet delivery service. No need to deprive yourself of a little fun just because you can't fathom looking a salesperson in the eye with a dildo in your hand.
Snap Delivery
This service will deliver almost anything from any store or restaurant in Toronto, so long as they're open. Craving McD's but too lazy or hungover to get it yourself? They'll do it for you.
Cargo Cabbie
One of our favourite Toronto moving companies, they also offer same day pick up and delivery at furniture stores, so that incredible new couch you just purchased won't have to sit at the store until you can find a friend with a truck to help you bring it home.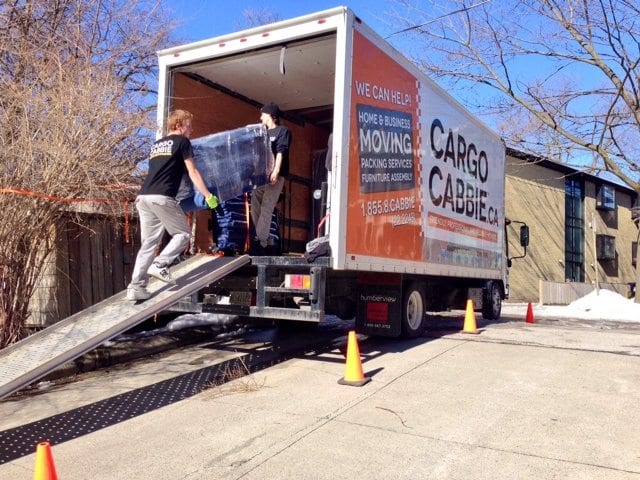 [ad_bb2]