If you're planning a trip to Montreal this summer, we've rounded up every notable event taking place that you won't want to miss.
From food and drink festivals to outdoor concerts, art exhibits and the Grand Prix, there's no shortage of activities to enjoy from May to September.
And don't stress if you've missed a few already because there's plenty of amazing events still coming.
[ad_bb1]
Montreal Beer Week
Date: April 29th – May 8th
Where: Check website for participating vendors
Celebrate Montreal's unique beer culture by enjoying great brews, trying new flavours, and supporting local bars and brewpubs at a number of the city's finest beer establishments.
Matinee Brunch
Date: May 1st
Where: Ristorante Buonanotte
Make a toast to a successful spring as you spend the afternoon enjoying champagne and a delectable brunch, prepared by the expert kitchen at Buonanotte. The restaurant's resident DJs Toddy Flores and Danny Torrence will be spinning hit after hit to keep this party going from morning to night.
The McCord Museum Sugar Ball
Date: May 6th
Where: Windsor Station
Now in its 7th year, the Sugar Ball brings together thousands of young professionals who are passionate about supporting Montreal's history and culture. All profits from the event will be used to make educational activities accessible for kids at the McCord Museum.
Lobster Clam Jam
Date: May 22nd
Where: Esplanade Du Centenaire De Canal Lachine
Thie fourth annual outdoor culinary festival will showcase a diverse range of highly-acclaimed local chefs, restaurants, and vendors this year. Treat your taste buds to a wide selection of meat and fish dishes — not to mention an endless array of lobster.
Dirty Dancing
Date: May 31st – June 5th
Where: Salle Wilfrid-Pelletier, Place des Arts
Take a walk down memory lane when you hear hit songs "Hungry Eyes," "Hey Baby," "Do You Love Me?" and the heart-stopping "(I've Had) The Time of My Life." This classic story is exploding with heart-pounding music, passionate romance, and sensational dancing.
Mutek Montreal
Date: June 1st – 6th
Where: MAC Musée d'art contemporain de Montréal
Kick off festival season by checking out Mutek Montreal the warm up for Montreal's summer festival lineup. For five days and nights, you can check out carefully curated performances that will feature live and original expressions of contemporary electronic music and audiovisual arts at a number of indoor and outdoor venues.
Florence & The Machine
Date: June 8th
Where: Bell Centre
Catch Florence and Monsters and Men as they take the stage at Montreal's largest concert venue for a night of indie rock and soulful tunes.
Mural Fest
Date: June 9th – 19th
Where: Saint Laurent Boulevard
Art lovers will appreciate this 10-day art extravaganza that gives the public the opportunity to watch the making of murals in real-time. There will also be a number of musical events and outdoor exhibits to check out.
St-Ambroise Montreal Fringe Festival 
Date: June 9th – 19th
Where: Théâtre MainLine
Check out the latest theatre performances that require no artistic direction with all artists selected through a lottery.
Grand Prix Soiree
Date: June 10th
Where: Ritz Carlton
Dust off those dancing shoes and slip into your sharpest evening wear – it's time to party in style. This will be the kick-off party for Grand Prix weekend and bring together Montreal's most elite individuals.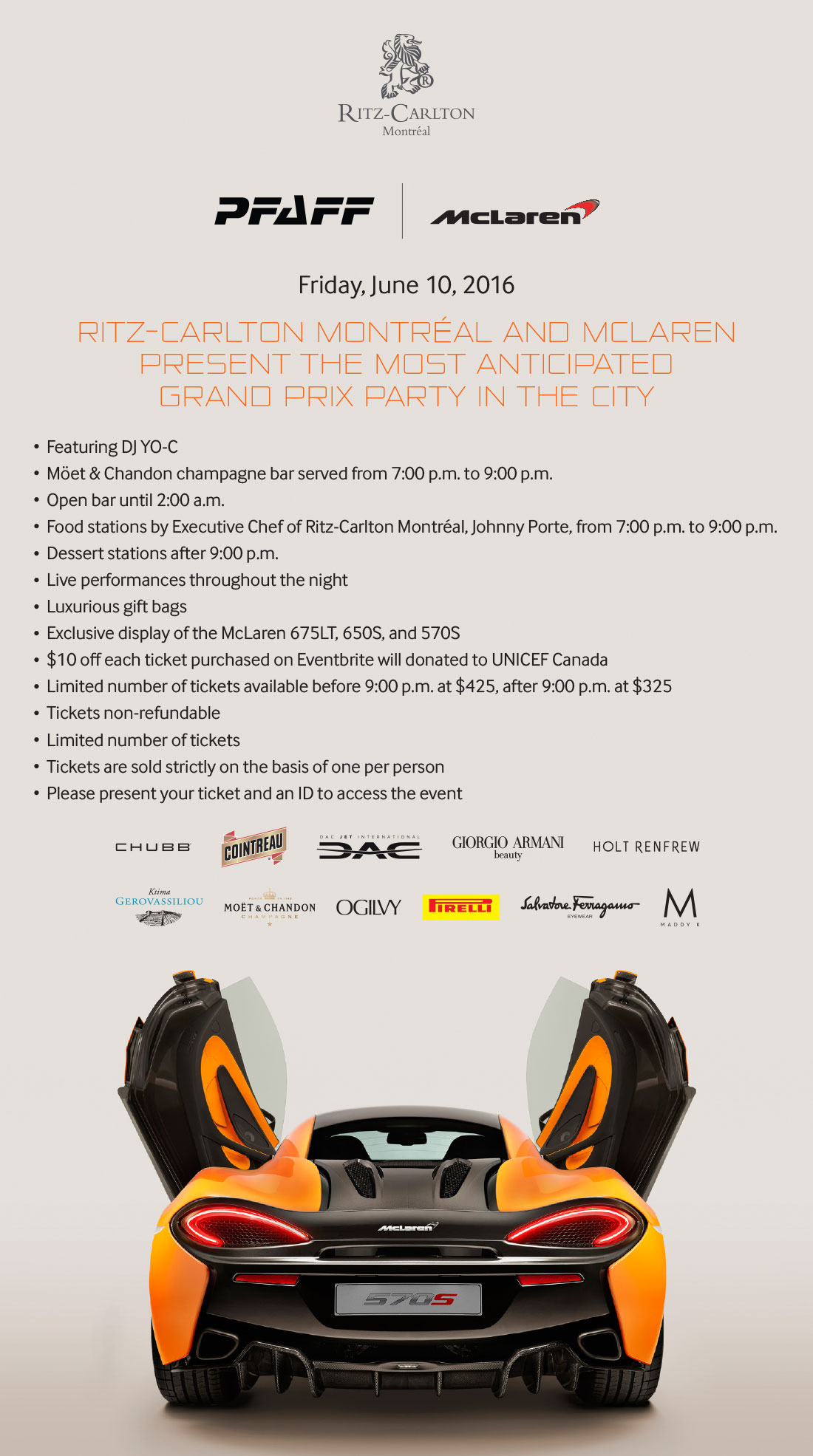 Grand Prix 
Date: June 10th – 12th
Where: Gilles Villeneuve Circuit
All eyes will be on the city this weekend as the biggest names in Formula One racing will be competing for this year's title.
Montreal Folk Festival
Date: June 15th – 19th
Where: There will be a variety of stages set up along the canal
For four days this summer you can catch some of the most talented folk, roots, and bluegrass musicians perform at the 9th annual Montreal Folk Festival.
Poutinefest
Date: June 23rd – 26th
Where: Quai de l'horlage
As the name suggests, this festival is dedicated solely to the cheesy goodness of poutine. For three days, Poutinefest will bring together Quebec's top poutine chefs to share new mouth-watering recipes that you won't be able to find anywhere else.
Montreal Jazz Festival
Date: June 29th – July 9th
Where: Quartier des Spectacles
This year's festival will feature an eclectic mix of artists with Lauryn Hill, Brian Williams, Lord Huron, and Rufus Wainwright as some of the headliners for the indoor shows.
Canada Day 
Date: July 1st
Where: Montreal's Old Port
Dig out your best white and red ensemble and celebrate your home and native land. There will be plenty of events to keep you busy throughout the day as well as an impressive fireworks display in the evening.
Montreal Watergun Fight
Date: July 2nd at 12:00 pm
Where: To Be Determined
Grab your super soakers and squirt guns and be prepared to take a walk down memory lane as the city prepares for its largest flash mob-style water gun fight. The location has yet to be announced, so keep checking the Facebook page for updates.

Sting and Peter Gabriel
Date: July 5th
Where: Bell Centre
For one night only you can watch two of the most successful musicians of the '70s and '80s at Montreal's Bell Centre with Sting and Peter Gabriel taking the stage for their Rock, Paper, Scissors performance.
ComicCon
Date: July 8th – 10th
Where: Palais Des Congres
Let your geek flag fly at this year's ComicCon that will showcase everything sci-fi, horror, anime, video game, tabletop game and comic book-related. William Shatner will be the guest of honour.
Montreal Electronic Groove
Date: July 21st – 31st
Where: Le Divan Orange
This annual music festival brings together the brightest up-and-coming electronic, hip hop, jazz, and rock acts from across the country. So if you're interested in checking out some homegrown talent, this is a music festival you won't want to miss.
Rogers Cup
Date: July 22nd – 31st
Where: Uniprix Stadium
Come cheer on the biggest female names in tennis as they battle for their chance at the title.
Osheaga
Date: July 29th – 31st
Where: Parc Jean-Drapeau
This multi-day Indie festival will be featuring music from the Red Hot Chili Peppers, Lana Del Rey, Radiohead, Future, and Leon Bridges.
Ilesoniq Music Festival
Date: August 5th – 6th
Where: Parc Jean-Drapeau
This is the only electronic-focused festival in Montreal and the organizers pride themselves in putting together a mix of talent that spans multiple genres. Headliners this year include The Chainsmokers, DVBSS, Skrillex, and Zedd.
Heavy Montreal 
Date: August 6th – 7th
Where: Plaine Des Jeux, Parc Jean-Drapeau
This two-day heavy metal and rock festival will be featuring headline performances from Disturbed, Five Finger Death Punch, Breaking Benjamin, and Black Label Society.
International des feux Loto-Québec (Firework Fest)
Date: August 6th – 24th
Where: The skies above Île Sainte-Hélèn
This is the largest pyrotechnics competition of its kind in the world and the Montreal International Fireworks Competition has been going strong since 1985. So grab that special someone, a blanket, and a bottle of wine — this is a night you'll both remember.
Montreal Italian Week
Date: August 7th – 16th
Where: Throughout the city
This week-long festival honours the beauty and diversity of Italy, allowing you to discover its music, culture, art, and incredible cuisine. Whether your Italian or you're just interested in trying some amazing food, this is an event you won't want to miss.
Fierté Montréal 
Date: August 8th – 14th
Where: Place Émilie-Gamelin
This summer marks Montreal Pride's 10th annual celebration and is the largest LGBT gathering in the Francophone world. This year there will be plenty of community activities, cultural events, and festivities that you won't want to miss.
International Tango Festival
Date: August 9th – 14th
Where: Throughout the city
This year marks the festival's 14th year and it will feature live performances by musicians from Argentina and Québec. There will also be free outdoor concerts, milongas (dance evenings) and indoor concerts to check out. But the highlight of the festival is definitely the dance workshops that offer tango lessons for all levels.
Under Pressure
Date: August 10th- 15th
Where: Promenade Wellington
Celebrating its 20th year, the Under Pressure graffiti festival will be focusing on community development and artist empowerment this year. Performers from across the country will be keeping the crowd hyped with special performances and a b-boy and b-girl dance battle.
Montreal International Reggae Festival
Date: August 26th – 28th
Where:Montreal's Old Port
This three-day festival showcases the pulsating reggae beat of internationally renowned musicians and has become an annual tradition for reggae music lovers in and outside of Canada.
Nuit Blanche sur Tableau Noir
Date: August 25th – 28th
Where: Throughout the city
Explore Montreal from a different perspective as you take in the public spaces — pavement, park, public square, businesses and intersections – that have been transformed into a large-scale urban playground where art and play coexist.
[ad_bb2]