Settling down and having kids undoubtedly changes your lifestyle in a myriad of ways.
But for travel-loving millennials, it may not have occurred to them just how much it might affect their future vacations.
Exploring the world with children will open their eyes and teach them about different cultures around the world – but often that means long plane rides, reduced dining options, and kid-friendly accommodation.
Some vacations are better left to us adults – here are the best adventures for you to take before you have kids.
[ad_bb1]
Macchu Picchu, Peru
Put your body to the test with one of the most iconic treks on the planet and be rewarded with an epic sunset over Macchu Picchu. Learn about ancient Inca culture and spot the occasional alpaca along the way. If you go as part of a tour you'll have camp set up and dinner cooked by the time you reach your base each night, so you can enjoy some fantastic Peruvian cuisine at the end of a long day's hike.
Bora Bora
The absolute pinnacle of relaxation, this South Pacific island simply must be enjoyed by oneself. Or ideally with your significant other. The crystal-clear turquoise water is the very definition of picture perfect and it's known for its scuba diving and snorkelling. Stay in an overwater bungalow or sunbathe on one of its private beaches and let all your troubles float away one by one.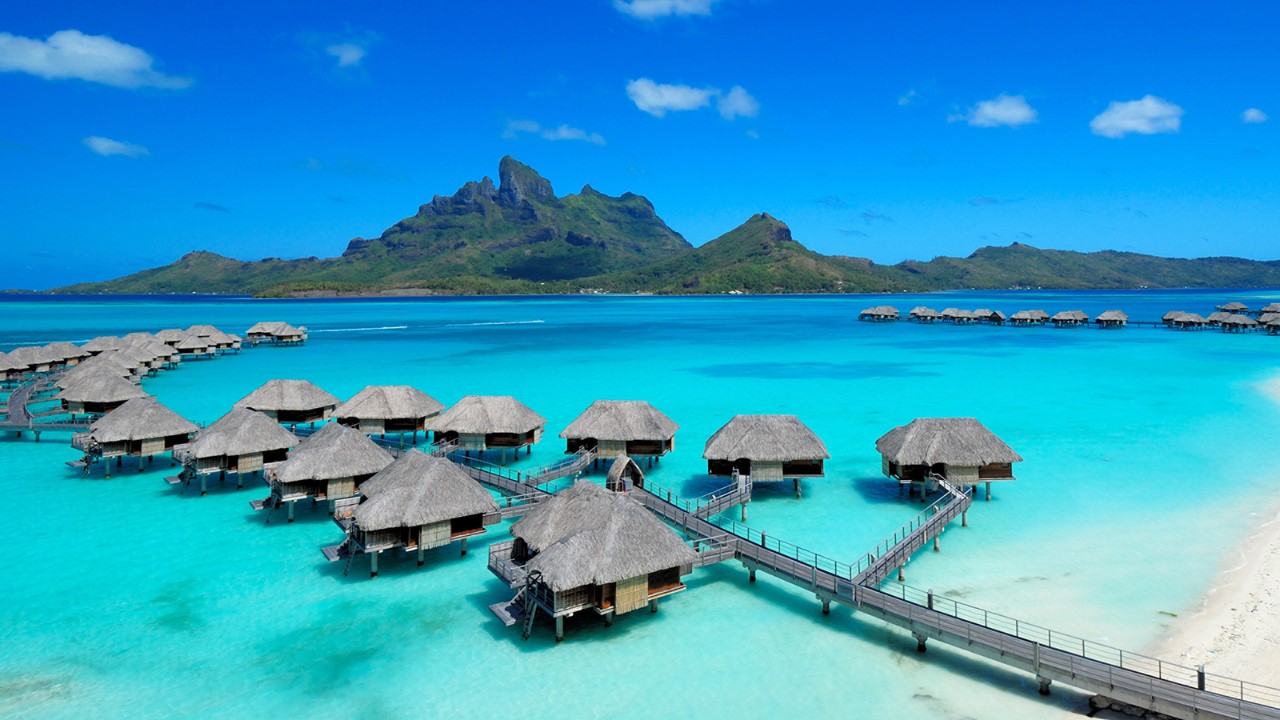 Carnival in Brazil
Let it all hang out in Rio de Janeiro, Sao Paulo or Salvador during Carnival between February and March. Enjoy classic Brazilian caipirinhas and dance the night away on the streets of one of South America's best party spots. Crowds can be daunting and pickpockets have a field day at this time of year, so it's nice to be responsible you – and you alone.
Glastonbury Music Festival
Enjoy all the muddy, camping, hedonistic pleasures that come on tap at this world famous music festival. Stand next to the amp, cover your body in fluorescent paint, and always have a beer in hand all weekend long. While there are so many music festivals to choose from, Glastonbury – founded in 1970 – is probably the closest to the Woodstock experience for sheer pleasure-seeking.
Route 66
Take the ultimate driving trip across America and live out all your On the Road and Thelma and Louise fantasies without the incessant "Are we there yet?" Hire a sweet convertible, put the roof down, and blast a playlist as you cruise through the Californian desert. Stay in questionable motels throughout your stay for the full road trip experience.
Amsterdam
Kids don't dig tulips that much, so that pretty much leaves you with legalized marijuana and prostitution. Of course there is also stunning architecture, beautiful canals, and world-class museums to enjoy, but unless you want to spend the whole of your vacation covering your children's eyes and having difficult conversations, we suggest visiting before you start a family.
Ibiza
Revellers on the White Island have been partying it up in mega clubs with the best DJs spinning the decks for years. You know what they haven't been doing much of? Diaper changing. Sure, you'll see families on the beach and in the Old Town, but Ibiza is synonymous for its around-the-clock party scene. Rave it up until the sun comes up, then catch some shut-eye on one of its many beautiful beaches.
Panama
Raw fish and children don't exactly go hand-in-hand. So enjoy all the seafood and ceviche you can stomach before you have to cater to the whims and palates of young travellers. Panama is well-known for its great markets, like Mercado del Marisco, where you can try samplers for a couple of bucks – plus, the un-child-friendly cheap mojitos pair pretty well too.
Australia
Let's be honest here. Flying with kids sucks – for them, for you, and for every passenger within earshot of that crying baby. So save your sanity by planning the longest of the long-haul trips for when it's still you plus none. Travelling around the sixth biggest country in the world will be a breeze if you can kick back and enjoy the ride on your way to all the beaches, wildlife, and nightlife on the other side of the world.
Vienna
Caffeine is a truly grown-up pursuit – so explore the UNESCO World Heritage Viennese coffee culture by exploring one of the many cool cafes in the Weiden district. The hipster paradise will be lost on kids who keep begging mommy and daddy if they can please stop uploading photos to Instagram and go.
Dubai
A place known for opulence, huge shopping malls and skyscrapers, this is very much an adult's playground. The Burj Al Arab is the world's only seven-star hotel, which you can arrive at by helicopter – and it definitely doesn't have a Kids Club in the evening. Plus, Dubai is very hot all year round, and if you're visiting temples you'll still have to cover up.
Paris
It's called the city of love for a reason, and love your kids though you will when they come along, eating McChicken Nuggets on the Champs-Elysees is zero romantic. Hire a fancy hotel, smooch under the Eiffel Tower, and re-enact Amelie in beautiful Montmartre. Remember: Paris is the place to be making babies, not taking babies.
Thailand
Eat phenomenal street food, drink potent cocktails from a bucket, and give the Western world a bad name with your crazy Full Moon antics. Island hop around this South East Asian wonderland and take all the time you need to experience the breathtaking ruined temples and mountains just waiting to be explored.
India
Travelling to this sub-continent is enough of a culture shock if you are a full-grown adult. Throw children into the mix and suddenly it's the stuff of nightmares. Famed for its sweltering weather, spicy curries, plus the potential for Delhi bellies combined with non-Western toilet arrangements, it could be a recipe for disaster. Enjoy the loud, in-your-face excitement of India without worrying about a young 'un.
Italy
Sniff, swill, and ultimately chug some delicious wine at one of the many vineyards in Italy. Tuscany makes Chianti like nowhere else on earth, and with its rolling hills, castles and beautiful food, it's not a bad place to start. Or try Montefalco, Bardolino or Dogliani for fabulous more vineyards and wine-tasting opportunities.

[ad_bb2]