We live in a world where we not only document everything we do, but we also feel the need to then post every single moment of our lives on social media.
Whether we're sharing what we had for lunch on Instagram, our gym routines on Facebook, or a video of our pets doing something weird on Snapchat, millennials are obsessed with sharing every moment of their lives, despite how insignificant these moments may be.
But before things like #OOTD and standing on chairs to perfectly photograph your avocado toast, we lived in a world where so many aspects of our lives weren't deemed worthy of constant capture.
We probably read a lot more books (yes, we still read, we just have to stop to take a photo of every paragraph we like). And we definitely paid more attention at concerts instead of focusing on what filter to use.
But whether we like how things are or we don't, social media certainly seems here to stay. Here's just a little reminder of what you used to not miss sharing.
Mason Jars 
Mason jars were once used only for grandmother's homemade jam, but suddenly they've become the prettiest thing to drink from and serve things in.
#OOTD
Remember the days when you knew your outfit looked good simply because your friends told you once you got to school?
Coffee and Latte Art 
We wonder how many hot beverages go cold while people stop to take multiple photos of their latte art. Or maybe these drinks are purchased purely with the intent to score a few extra likes on Instagram.
Gym Selfies
Is it really necessary to take a photo every time you go to the gym? Your friends will still believe that you work out if you don't post a photo every other day. Not to mention the other people at the gym are probably shaking their heads at you too.
Personal Political Beliefs 
When it comes to ranting about political bliefs, we don't know the meaning of TMI. It's now more like Not Enough Information. We all have that one friend who loves to share long political tangents on Facebook. Don't be that friend.
Brunch
We get it, you love brunch. We all love brunch. But that doesn't mean we need an assortment of plate pictures clogging everyone's feeds. You've seen one eggs Benedict, you've seen them all.
Smoothies 
This goes for any blended concoction. From smoothies to fresh pressed juices, our social media feeds have been taken over by people triumphantly holding colourful drinks.
Colourful Walls 
A pretty backdrop is always a must, but we'll be honest: the bright patterned wall trend needs a little break.
Pizza Everything 
From clothes to nail art and home decor, pizza isn't just our favourite food anymore – it's a way of life.
Personal Beef 
We live in a world in which our personal feuds and dramas are shared in 140 characters or less.
Giant Foil Number Balloons 
A girl cannot celebrate her birthday unless she takes a photo with giant foil numbers. Regular balloons used to be fun. But giant numbers half the size of the birthday girl is even cooler.
Airplane Wings 
We definitely travelled before social media, but back then we only cared about taking photos at our final destination. It wasn't a requirement to take an airport pic, a chilling on the plane pic, and multiple photos of the plane among the clouds.
Smoothie Bowls 
Remember when yogurt, granola and fruit were simply just that? Now it consists of hemp seed and chia seeds and perfectly straight lines of fruit. We all know you're just going to mix it all up once you've taken a photo of it.
No Makeup Selfies 
If only no makeup selfies actually consisted of you not wearing any makeup. You definitely have some concealer and/or bronzer on, most likely eyelash extensions, and you probably took more than 10 shots to capture the perfect pose. Oh, and you DEFINITELY didn't wake up like that either.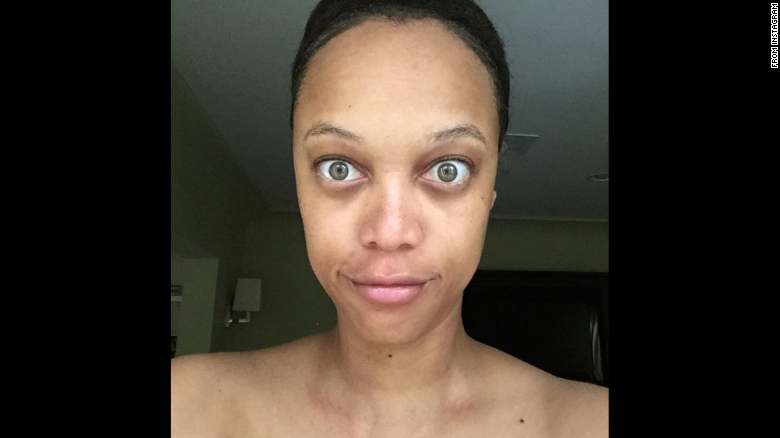 [ad_bb2]