It's Saturday morning. You're hungover. You roll over to turn off your alarm clock and curse your best friends for making you agree to a weekend brunch.
Stop. You're going about this all wrong.
Brunch is hands down the best meal of the week.
Despite its air of class and sophistication, brunch is a judgement-free zone where anything goes – including bacon, maple syrup, and booze before 11 am.
So grab your keys, head out of the door in yesterday's clothes, and get ready to stuff your face in the company of good (hungover) friends.
Bon appetit.
Hangover-Friendly Time
It's not a painfully early time (like breakfast), but it's not quite reached Hangry O'clock. It comfortably straddles the two, allowing you to get up and enjoy the Breakfast of Champions – without risking losing it again an hour later because you got up too soon. Once you've imbibed some hair of the dog, or got some life-giving caffeine in you, you'll be feeling fresh.
Discuss the Previous Evening
Gone are the college days when your pals were just a couple of doors down if you needed the skinny on what went down last night. You may not live nearby, but brunch is the perfect opportunity to discuss the events of your night and find out important gossip – like, did Caitlyn really make out with that dude or was that your sixth rum and coke talking? But whisper it, please – we're still feeling a little tender.
Drinking Without Judgement
Normally, cracking open something alcoholic would be served with a side of judgement, but it's perfectly reasonable – nay, encouraged – to have a drink with brunch. It's what the Caesar was made for. If Clamato juice isn't your scene, a Bellini is the perfect brunch accompaniment. Or beer – beer's good too. OK, so pretty much any booze.
Because, Bacon
The mecca of those crunchy strips of deliciousness, brunch is a safe haven for bacon addicts. And if anything is going to get you out of bed on a Saturday morning, bacon a pretty great excuse. You could brush up on your bacon knowledge in your pursuit to become a bonafide "Bacon Critic". Plus, it's better for the environment than salad – so what are you waiting for?
Who Cares if You Don't Like Eggs?
Brunch has diversified so much in recent years, so if you're not a fan of Eggs Benedict, there's still so much good food up for grabs. You can choose pancakes, a pulled pork sandwich, or even a burger from most restaurant menus – brunch is a way of life, not just a breakfast-lunch hybrid, maaannnnnn. So have whatever you feel like; there's no discrimination here.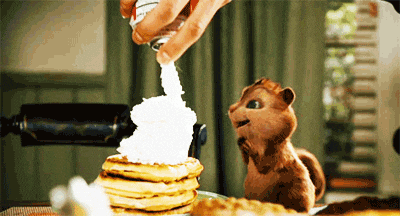 5-a-day
Brunch isn't all carbs (but don't worry, there are plenty of those too). It's a great opportunity to grab some of your 5-a-day fruit allowance, with its unique incorporation of all things savoury and sweet. Plenty of dishes come with a side of fruit, or you can opt for French Toast with bacon and strawberries – all doused in delicious maple syrup, of course. Yum.
Coffee
Your espresso machine may have all the bells and whistles, but there's something special about having a barista rustle you up a cappuccino or flat white. Order to your heart's content and maybe even get a free refill. Plus, you generally don't get latte art when you make it in your apartment.
Instagram
Have your Instagram posts fallen off a cliff recently with your busy work weeks and modest weekends spent catching up on sleep? Well, brunch is your opportunity to make up for all that with some truly epic, artistic snaps of your Brisket Cornbread or classic Avocado on Toast. It'll garner you a bunch of new likes and followers – just don't forget to get down from your chair and actually eat it at some point.
Unlimited calories
It's not quite breakfast, but it's not lunch yet either – so cover over all bases by eating for both meals. By the time you've lined up for a table, ordered a Mimosa, and whittled down all the incredible choices on the menu, you'll be famished. Make sure you order enough to satisfy your hunger, and remember: you're eating for two (meals) now.
Kickstart Your Weekend
You're up, you're full of delicious food, and you're in a hip, trendy neighbourhood all before noon. So why not seize the day and make something of your Saturday or Sunday? Go and visit that gallery you always talk about, ferry across to the island, or hire a bike and explore the city. Alternatively, pat yourself on the back, head back to bed, and commend yourself for not sleeping until 2pm (again).