Banksy did it, so it's cool.
Seriously, that's a fact. Name something he's done that isn't cool. Exactly.
But he's not the only artist in the album cover game. So we had Montreal's Station 16 Gallery, who specialize in street art, round up 10 of the best album covers taken right from the streets.
[ad_bb1]
Justin Bieber, Purposes | Retna
Justin Bieber's new album, Purposes, drops today, but the album cover started making waves last month when the imagery was released online. The black-and-white portrait of the Canadian singer is featured alongside the unmistakable calligraphy of Retna. Known for his geometric script, Retna draws influence from the graffiti of Los Angeles, as well as traditional symbols of Egyptian and Native American cultures.
Drake, If You're Reading This It's Too Late | Jim Joe
The unexpected release of If You're Reading This It's Too Late made headlines when it dropped, and its album art also surprised and amused audiences. Designed by Jim Joe, the cover features the artist's childlike, grammatically-incorrect writing. Based in New York, although allegedly from Montreal, Jim Joe's Duchamp-esque tags began appearing in 2010 and continue to be as enigmatic and quirky as ever.
Chris Brown, F.A.M.E. | Ron English
Chris Brown's 2011 album F.A.M.E features the work of American artist Ron English. Often exploring themes of pop culture and advertising through what the artist refers to as POPaganda, the work of Ron English is recognized and found across the globe. F.A.M.E.'s cover reflects the artist's style, blending low and high cultures. Additionally, Brown and English collaborated later on a limited edition collectible toy.
Christina Aguilera, Bionic | D*Face
The striking cover of Christina Aguilera's 2010 album Bionic was designed by the English street artist, D*Face. Pop art embedded with social commentary is D*Face's forté, as he often highlights the darker sides of humanity through his comic book style. As an art collector, Aguilera had already acquired several D*Face works prior to the launch of Bionic. While the imagery appears stylistically more futuristic than what is expected from D*Face, the illustrative quality and reference to duality is spot on with D*Face's repertoire.
Kanye West, 808s & Heartbreak | Kaws
Kaws, an influential street artist, illustrator, sculptor, and toy designer created the design for Kanye West's 2008 album 808s & Heartbreak. Bright colours and cartoon figures fill his work, which are recognizable by their x-ed out eyes. Kaws, who is no stranger to commercial collaborations, features his balloon-like illustration on the album cover, while incorporating his signature xs.
The Smashing Pumpkins, Zeitgeist | Shepard Fairey
As one of the most renowned urban artists of today, Shepard Fairey designed the album cover for Smashing Pumpkins' 2007 album, Zeitgeist. From his Obey Giant to his presidential campaign poster Hope for Barack Obama, the work of Shepard Fairey has become iconic in contemporary culture. Fairey's work often critiques various elements of modern society, from civil liberties to climate change, and consistently does so in a haunting colour scheme of red, black, and white. His design for Smashing Pumpkins is no different, as the flooded Statue of Liberty conveys despair and an alarming reality.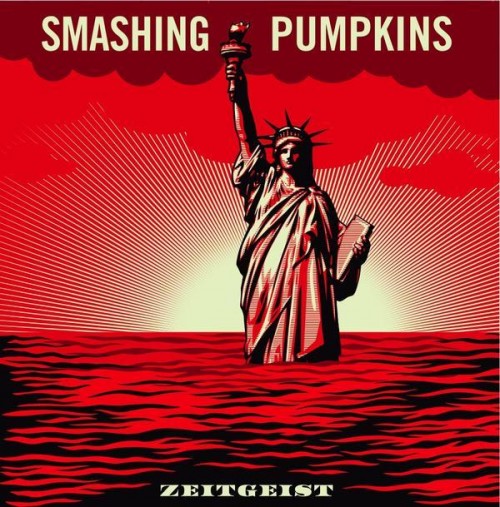 Oakley Hall, I'll Follow You | Maya Hayuk
While Maya Hayuk is best known for her large-scale murals of striking, geometric lines, she is an accomplished artist, talented in painting, photography, and video-making. In addition to her street and gallery work, Hayuk has collaborated with many bands, creating countless album covers. Her design for Oakley Hall's 2007 album, I'll Follow You, perfectly reflects her mural work.
Blur, Think Tank | Banksy
That's right. Back in 2003, Banksy designed the cover of Blur's album, Think Tank. As today's most notorious street artist, Banksy's political and humorous stencils are found across the globe, and his work continues to be highly sought after at prices inconceivable to most. His design for Blur's album mirrors his work on the streets, displaying a simple stencil design on concrete.
UNKLE, Psyence Fiction | Futura
Futura began painting New York subways in the '70s and remains one of graffiti's most iconic artists. He designed the cover of UNKLE's 1998 album Psyence Fiction. In addition to street art, Futura has developed a practice that includes graphic design and photography. The artist's abstract style, a first for the graffiti of the '70 and '80s, has become a staple for urban art today.
David Bowie, Without You | Keith Haring
Another graffiti legend, Keith Haring created the record sleeve for David Bowie's 1983 single Without You. Often voicing social and political critiques through his work, the New York artist holds claim to some of the most widely recognized and iconic imagery of contemporary art. The original vinyl of Without You has become a rare collectible item, coveted by urban art and music fans alike.
[ad_bb2]