Do you ever feel nostalgic, maybe even a tad bit jealous, when you hear about little kids getting to head off to summer camp?
Perhaps you miss being in the great outdoors, miles away from the city. Or maybe you miss getting to hang out with a group of new people while learning some useful skills and making arts and crafts.
So, if you're still looking for some summer travel plans, maybe you should take a walk down memory lane and consider going back to summer camp.
Here are 10 adults-only summer camps in Canada that you should check out this summer…
[ad_bb1]
Wild Rumpus — Gambier Island, BC
Here you'll get the full camp experience, from sleeping in cabins to eating in a dining hall, zip lining, kayaking, and rock climbing — but with plenty of themed parties, live music, and an open bar. See, growing up isn't so bad.
Zombie Survival Camp — Cardiff, ON
Every adult should know how to survive during any kind of disaster, including a zombie apocalypse. Here you'll learn how to shoot, slay, evade, and outlive the undead. The camp's team of zombie experts will build you up to be the zombie-killing badasses you've always wanted to be. By the end of the weekend, you'll be able to teach Rick Grimes a thing or two about zombies.
Camp No Counselors — McKellar, ON
Everyone misses the carefree days of childhood every now and then, when the most important decision you had to make is who you wanted on your dodgeball team. Camp No Counselors brings together all of your favourite aspects of childhood, while adding the best of what being a grown-up has to offer. At this all-inclusive sleepaway camp, you'll get to play like a kid while partying like a grown up.
Camp Comfort —  Lake Aylmer, QC
If you're looking to rediscover yourself this summer, Camp Comfort will take you on an inner journey through yoga, meditation, and other spiritual exercises. The space here is designed to help campers relax and replenish, offering a wood-fired sauna and hot tub to help. And while this is a very unconventional take on a summer camp you'll return home feeling healthy and inspired.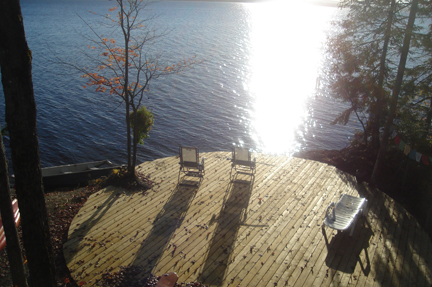 SOS Wilderness Survival — Bruno, SK.
Unfortunately, you won't be learning how to protect yourself from a potential zombie outbreak, but at this summer camp, you'll learn how to survive a potentially life-threatening situation. Here you'll learn how to construct primitive weapons, forage for food, build a shelter, and how to signal for help. Campers will learn how to use the natural resources and everything else around them to survive.
Jamboree LGBTQ Summer Camp — Algonquin Park, ON 
Each summer, the Out & Out Club hosts a week-long summer camp for the LGBTQ community. You can expect to find all of you favourite summer camp activities such as canoeing, sailing, swimming, various land sports, nightly talent shows, and of course an epic costume party.
Canadian Adventure Camp — Temagami Lakes, ON
This week-long sleepaway camp will bring together all of the elements that you loved about camp as a kid: giant water slides, Tarzan swings, climbing walls, and incredible talent shows. The spectacular location in Northern Ontario offers campers modern facilities, incredible food, and an abundance of outdoor activities.
Camp Yoga — Parry Sound, ON and Canmore, AB
This camp offers a bit of everything — yoga with a killer line up of instructors, rock climbing, wine tastings, traditional camp games, live music, and water activities. The goal of Camp Yoga is to unite your inner camp life kid with your mature, elevated self, and did we mention there will be plenty of wine?
Fireside Conference — Bancroft, ON
This sleepaway retreat brings together the best and brightest tech and entrepreneurial minds in Canada. Here you'll learn from industry leaders and connect with top VCs, Angels, and other leading startups. When you're done with business, head out to the lake for water-skiing or hit the courts and play basketball with your potential investors.
Spynga Goes to Camp — Palmer Rapids, ON
For the active adult who's a camper at heart, Spynga — the yoga and cycling studio — has teamed up with Camp Walden for an all-inclusive weekend of cycling, yoga, and circuit training at a traditional summer camp setting. Here you'll enjoy the beauty of the outdoors as you connect with friends new and old, nature and yourself.
[ad_bb2]